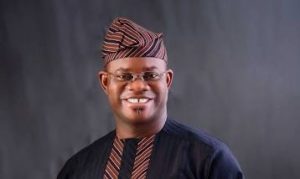 No fewer than 17 Senior Advocates of Nigeria (SANs) from Kogi State have called for the suspension of appointment of new Judges into the state judiciary until certain criteria are met.
This was contained in a letter to the Chief Judge and Chairman of Kogi State Judicial Service Commission, Justice Josiah Majebi, which was dated October 20, 2023.
Titled "RE: Provisional Short-list Of Candidates Of Ten Judicial Officers Of The High Court Of Justice Shariah Court Of Appeal And Customary Court Of Appeal," the indigenous Kogi SANs stated that appointment of Judges to superior courts of record is regulated and requires provision of basic facilities such as availability of court rooms/Judges chambers, official cars, residential accommodation as well as equipped library in Judges' chambers, citing Rules 1-5 of National Judicial Council Revised Guidelines.
In the 12-point issues raised in the letter signed by Yunus Ustaz Usman, Life Bencher for himself and on behalf of 16 other Senior Advocates, the legal luminaries also pointed out that the proposed candidates listed for appointments of judges did not reflect the geographical spread. They noted that the list is lopsided to the disadvantage of other parts of the State.
According to the letter, the candidates listed for customary Court of Appeal are all from Kogi Central and there is no candidate from Kogi East or Kogi West, noting that there are qualified persons from Kogi East and Kogi West that were not selected.
Moreso, the appointment of Judges according to the legal luminaries, must in compliance to section 14 (4) of the 1999 Constitution as amended, be based on merit, competence, fairness, and equity among the various tribes of the State, which they observed in the instance case where not observed in breach.
SaharaReporters reliably gathered that about 80 of shortlisted candidates for appointment to the 10 vacant positions for Judges and Kadis were from Ebira, Governor Yahaya Bello's clan.
A source told SaharaReporters that among the shortlist candidate is Governor Bello's wife, Amina Yahaya Bello, Esq listed as number four.
The three shortlisted candidates for customary court of appeal, the source said were all from Governor Bello's tribe, Ebira, a development that is causing ripples in the state.
Meanwhile, in justifying their position for the suspension of new appointments of judges, the Kogi born SANs noted with regret that since the creation of Kogi State until 2019, each time Judges of the High Court, Customary Court of Appeal and Khadis of the Shari'ah Court of Appeal were appointed, facilities mentioned were always provided.
"Incidentally on the 31" December 2020, 5th October 2021 and 1 June 2022, Judges of High Court and of the Customary Court of Appeal were appointed and cars were not given to them by the Kogi state Government as has been the tradition. These judges have no facilities to function well as judicial officers.
"They are suffering under excruciating conditions in the discharge of judicial duties," they lamented. "Strangely, some of these Judges of Kogi State High Court who were appointed in 2021 and 2022 do not have court rooms to sit to carry out their constitutional and statutory duties. It is beyond dispute, that at least three of these Judges are currently using the conference room of the High Court, of justice in Lokoja as their court room with no facility befitting the status of High Court Judge.
"The Chambers is like cubicle with no books or any facility for maximum discharge of judicial functions. These judges sit one after the other each day and these bizarre developments keep lawyers waiting endlessly. This undesirable situation shows Kogi State High Court does not have adequate facilities or court rooms for their Judges.
"That while it may be correct and true that Ten Million Naira was given to each of the judges appointed in 2021 and 2022, to purchase cars, this amount is grossly inadequate to purchase a befitting car for a Judge of superior courts of record. Each of these judges is entitled to use at least Prado Jeep like their brother Judges in other States of the Federation.
"That the High Court rooms in some part of Kogi State such as Dekina, Ugwolawo, Okpo, and Ajaokuta to mention just a few are in dilapidated conditions and uncomfortable for any serious judicial business as there are no facilities therein and no judicial officer can be comfortable sitting in such dilapidated court rooms," the letter partly read.
They, further stated that most of the candidates shortlisted for Bench are neither Magistrates nor practicing Lawyers. "To say the least, some of them have never practiced law since their call to Bar. Appointment to the Bench of High Court of Kogi State must be given to serious minded Legal Practitioners who well experienced and legal exposures, and who know their onions."
Shortlisted candidates for the Bench:
The names below are those of shortlisted candidates for appointment to the 10 (Ten) vacant positions for Judges and Kadis
HIGH COURT OF JUSTICE
1) Badiru Abdulghaniy, Esq.
2) Ezema Beatrice Ada, Esq.
3) Ibrahim Idenyi
4) Amina Yahaya Bello, Esq.
5) Joseph Sunday Ajesola Esq.
6) Dr Mohammed Tanko Esq.
7) Badama Kadiri, Esq.
8) Umaru Medina, Esq.
9) Ibrahim Jubril, Oladimeji, Esq.
10) Ojoma Rachael Haruna, Esq.
11) Zakari Wahab
12) Halimat Onuka
SHARIA COURT OF APPEAL
1) Idris Alhaji Abdullahi, Esq.
2) Abdulwasiu Oladele Salaudeen
3) Muhammad Muhammad Bello, Esq.
4) Mohammed Usman, Agaba, Esq.
5) Okino Isah Saidu, Esq.
6) Abdulaziz Muhammad Abdulmali
7) Ganiyu Adeku, Esq.
8) Yakubu Adavenge Abbas
9) Hassan Hussaini
10) Musa Muhammad Jibreel
11) Hussaini Zakariya Labaran, Esq.
12) Salihu Abdullahi
13) Idrees Usman Abdullahi
14) Shaibu Ridwan Aliyu
CUSTOMARY COURT OF APPEAL
1) Musa Onogo Idris, Esq.
2) Maryann Oziohu, Esq.
3) Shaibu Ozovehe Ebenezer, Esq.