By Anayo Okoli
UMUAHIA—THE crisis rocking Abia State Judiciary Service Commission has deepened with factions emerging and claiming to be the authentic body.
While one faction is loyal to the State Chief Judge, Justice Theresa Uzokwe, the other faction holds its allegiance to the Attorney-General and Commissioner for Justice, Chief Umeh Kalu (SAN).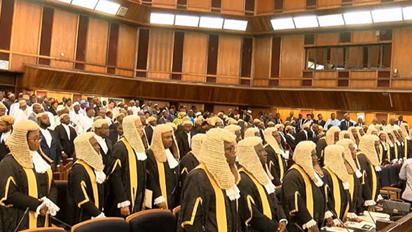 The crisis has left the commission with over 70 staff almost moribund as no serious activities go on.
According to Kalu, the problem is that the Chief Judge wants to annex  the Commission to her office. He said he has worked with five different chief judges in his nine years as Attorney-General and they had ran the Commission from its office and not from the Chief Judge's.
The Chief Judge and the Attorney-General are statutory members of the commission with the Chief Judge as the chairman.
When Vanguard visited the commission , the workers were looking dejected. The conference room was under lock and key, but a peep from the window showed the conference room  covered with dust.
Workers of the commission said the Secretary, Mr. Lawrence Okite, has the key to the office.
The  commission's trouble started last November when the state House of Assembly summoned the commission and the Attorney-General over a petition against a Grade 1 Magistrate, who had stayed beyond her retirement age.
After deliberating on the petition, the House indicted the commission and recommended to Governor Okezie Ikpeazu to dissolve it  and reconstitute new members. The  governor accepted the recommendation of the House, dissolved and reconstituted the commission and nominated new members.
But the dissolved members felt aggrieved and headed to court and got an ex-parte order restraining the governor, the Attorney-General, Abia House of Assembly, the Chief Judge and the Commission from taking any action until hearing of the Motion on Notice.
The order was made on December 5, 2016 by Justice A. C. Chioma.
The post Abia Judiciary Service Commission crisis deepens appeared first on Vanguard News.