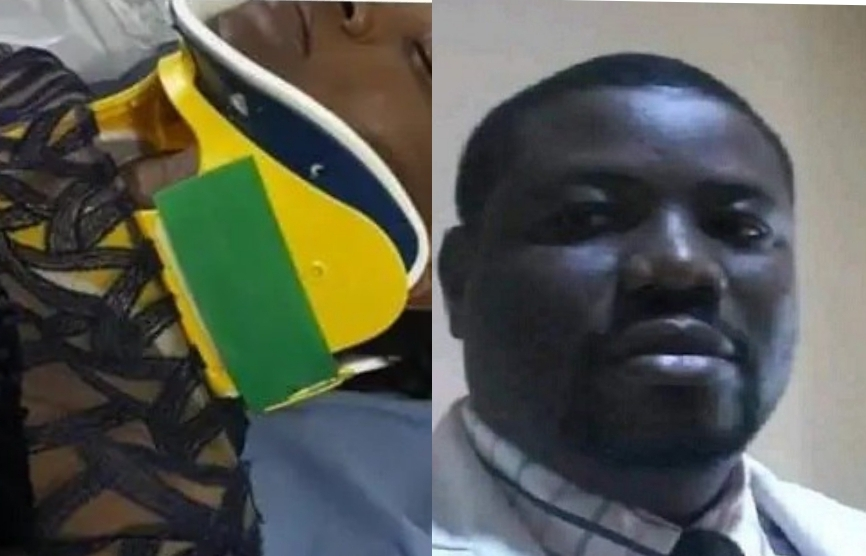 By Dickson Omobola
Dr Adenike Olubiyi is the wife of the suspended Chief Medical Director, CMD, of Ekiti State Specialist Hospital, Ikere-Ekiti, Dr Olaolu Olubiyi.
In this interview, the 44-year-old lecturer at Ekiti State University, Ado-Ekiti takes us through her marital troubles and how the constant beatings she allegedly suffered from her husband affected her and the children among other issues. Excerpts:
On issues surrounding her husband and his employee
Before that day, there had been issues. It involved one of the staff members in his private clinic whose employment I facilitated when the clinic needed someone. Like other staff members, she lived in the hospital's premises. When I got to know about their affairs, I called his attention to it, but he said something else.
He said whatever relationship existed between them was based on work. He also said the lady had someone with whom she was in a relationship, but the person was based abroad. When I also got to know that the lady was pregnant, I called him and asked, but he wasn't straightforward with his answers.
Nevertheless, I tried to manage the situation until I was being threatened and told to do certain things for the lady, which got me depressed.
In January this year, I informed the International Federation of Women Lawyers, FIDA, because there was domestic violence against me. However, I later withdrew the case due to the fact that I was trying to see how things will not affect him and his career.
Later in the year, the situation got out of hand, especially when he told me to play with the lady and ensure I do things for her. The situation affected me and the children (three boys of 14-year-old, 12-year-old and the youngest, eight). They all became emotionally unstable. Witnessing the violence inflicted on me really affected the children. It was at that time that I realised that my life was being threatened and I decided to leave with the children. Consequently, I filed for separation. Later, we agreed to settle out of court because I thought that things would get better.
Opposition from her family and kids
Even though my siblings didn't support it (settlement) nor did my parents, I went back because I didn't want to be stigmatized and I also thought I would be able to cope with him. In October last year, I went back against all odds. The children weren't happy about it and didn't support my going back.
But, as children, they had no choice. We continued like that, managing the situation. Recently, there were issues of violence, especially threats that he would kill me. In fact, one incident happened where it was the first child who saved me. It was after that incident that I said, with the way the situation was unraveling, it would be better to find an escape route for myself, so that it wouldn't result in my death.
On if the matter was being blown out of proportion
Nobody is blowing the issue out of proportion. The day the last incident happened, I was narrowly saved from death. It was a stranger in the compound who called the police that came to my rescue and took me out of the house.
When I was taken out, I was taken to the police station, but when they saw the condition of my health, I was rushed to a private clinic where I was stabilised. During the incident, he squeezed my neck and till now, I use a collar to guide the neck because of the fracture. The incident happened on September 14. When they wanted to discharge me a week after (the following Saturday), they said I would use the collar the next week and be on bed rest for six weeks. I am still using the collar to date.
Is it true that you hit him with your head?
I never hit him with my head. Anybody will know that it can never be true. How will hitting your head on somebody's chest make your head break? Anyone that knows our stature knows that it is not true.
Because of this issue, I have reduced drastically. Many people who knew me before do not know me anymore because of the physical changes.
Can you take us through all that transpired on September 14?
I was at home that day to pick my things and leave, but as I entered the house, he also entered. However, when I went to the house, I was with a stranger (female) whom he didn't know. It was the lady that later told me that when he came, he locked the gate before coming inside to meet me. When he met me, the first thing he did was to drag my head and hit the floor. He started hitting me after that. He hit me until he began dragging me by the hair to the sitting room. In fact, those that must have looked at me closely when the incident happened must have noticed that part of my hair was removed. It was because of the pull. He pulled me by the hair and pinned my neck down.
He released me after I called his attention to the stranger in the compound as he wanted to go and meet the stranger. But before leaving, he locked me inside. When he left, I saw my phone that he had seized and started calling everyone that I could call. Also, before we entered the house, I had given the lady the phone number of the police to call them should any trouble arise.
Did you tell anyone about your ordeals?
I am the kind of person who endures a situation. Many people in the workplace didn't know what was wrong with me. They were all concerned thinking I had health issues. When they asked me what was wrong, I told them that I was dieting.
I don't discuss my family issues with people. Even my relatives usually say that I am too secretive because I don't tell them things. Yes, there were times that I got injured in the process but I still managed myself. It is not everybody that you tell things. Like I told someone, an African woman will want to see how best she can manage issues. I was too considerate. He would use derogatory words against me.
Naturally, I try to study people and design a coping mechanism. I was also running away from stigmatization. It was when I noticed that the thing was becoming life-threatening that I said the best thing for me was to leave. Sincerely, I just wanted to escape quietly with my kids and I was able to take them out successfully. However, I couldn't take some of my things and, as a lecturer, there are some things that are very important.
Students' scripts are very important. I thought I would use the opportunity to take my load or whatever I could take, and think of how to quietly file for a divorce.
Can you take us through the early times of marriage?
We got married in 2006 and July made it 17 years. We met in 1997. In the early times of marriage, there were ups and downs. There were cases of violence then but the major issue was the women palaver.
Whenever I realised that he has started and I mentioned it, he got temperamental about it, which would result in me taking my eyes off it. The bad temper has always been there but whenever he showed it, I used to keep quiet. From the outset, the marriage has been troubled.
Why did you decide to stay in the marriage?
Even when my family was against my coming back, I was like as long as I could create a coping mechanism, I could live with him. That was until recently when it became life-threatening and I said to myself 'someone who was saying it and exhibiting it means he was working on it'. It was until then that I realised that it was better I found a way to escape instead of dying like a chicken. Thank God I didn't finally die like a chicken because I was almost gone.
What do you mean by 'someone who was saying it and exhibiting it means he was working on it'?
He would tell me that if he killed me, he would get away with it. Saying I know he is a doctor. At the initial phase, I would say I cannot die because the covenant I made with my God is that I will see my children until the fourth generation. When I saw that it was being demonstrated physically, I thought that if I die, God will blame me because he gave me many opportunities to leave.
Did he try to reach out to you while you were in hospital?
When I was in the hospital bed, he called, but I blocked the line because I know he has manipulative acts.
Can you tell us how the situation has affected the children?
For the mental health of the children, up till now, I am still of the opinion that they will need a therapist.
I don't want those children to be a danger to society because of what they've passed through. You know children are made by what they see and hear. Many of the things he did to me were witnessed by the children. The one before this, it was the oldest child who saved me, and that was what got me concerned that these children are going back to school, who would save me if such arises? Is it the youngest child at home?
There are rumours that your family wants to resolve the matter. How true?
No family is resolving anything because he has no contact with any member of my family. Will my family say I should go and die? When it wasn't as life-threatening as this, they were so afraid because of some displays in their presence. There has been a display in my family's presence, particularly in my brother's house. My mum was there when it happened. In fact, it would have been in the presence of my dad, but he left out of annoyance because he said he was rude to him. God has decided to give me a second life to live and I am appreciating him everyday for it.