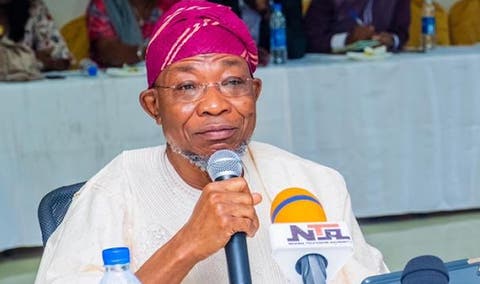 Bola Bamigbola, Osogbo
It is obvious Aregbesola is not comfortable with some new elements that have just joined APC. A few days ago, he said killers had joined the party. He fired another salvo yesterday.
The MINISTER of Interior, Rauf Aregbesola, on Sunday warned that people that lacked his kind of political pedigree could not displace him in the fold of the All Progressives Congress in Osun State.
This is according to a statement signed by Sola Fasure, the Media Adviser to Aregbesola.
Aregbesola, who is the immediate past governor of Osun State, had visited Ilesa on Friday to revalidate his APC membership, where he addressed his supporters.
The statement read in part, "Ogbeni Aregbesola reminded the people that Chief Bola Ige was their leader and stood all his life for a compassionate government, commitment to the good of the majority and ideas that would bring the good life, happiness, progress and security to the people. He urged them to be conscious of those who continue to dance on Ige's grave and avoid anything that would dishonour the late statesman's memory.
His continued reference to Bola Ige is believed to be throwing darts at Iyiola Omisore who was tried and acquired by courts over Ige's murder and who recently joined APC.
"Ogbeni Aregbesola assured the people of working towards greater success of the party and of his commitment to progressive ideals. He reminded them that he emerged in Osun on the Oranmiyan platform 17 years ago, and with others fought the agents of darkness and regression and firmly consolidated the party in the state.
"This effort has produced two successive progressive administrations in the state and also won presidential and national legislative elections thrice since then, noting that it would be difficult for those who lack such pedigree to displace him in the party in the state."
Copyright PUNCH.