FACT CHECK: Amaechi's claims on recession under Jonathan and 7,000MW under PMB are false
Rotimi Amaechi, minister of transportation and former governor of Rivers state, made false claims about Nigeria generating 7,000MW of electricity under President Muhammadu Buhari, TheCable can confirm.
In an interview with Osasu Igbinedion, after the launch of the Kaduna-Abuja railway line, Amaechi said Nigeria was generating 7,000MW of electricity before the resumption of militant activities in the Niger Delta region.
He blamed the militants – Niger Delta Avengers – for poor power generation in Africa's largest economy.
"Don't forget that until these so-called Avengers began to bomb,we had got to 7,000 megawatts, and what he promised was ten at the end of the first term," Amaechi had said.
"By the time the avengers, or whatever they call them started bombing, the minister of power, had driven the thing to 7,000 megawatts. Unfortunately, they began to hit the gas facilities, so what would you do?"
FACT: Nigeria, in its 55-year history, has never generated 7,000MW
Contrary to Amaechi's claim, TheCable can confirm that Nigeria has never generated as much as 7,000MW in its entire existence.
Electricity generation in Nigeria is said to have begun under the British colonial government back in 1896, while the Nigerian Electricity Supply Corporation (NESCO) came on board in the late 1920s.
Ignoring the above, and tracing our records to 1960, when Nigeria got her independence, the government said, in a memorandum of understanding signed with the United States government, that it had built power plants to generate about 6,000 MW of electricity by 2014. NERC data shows the government fell short of its projection.
According to Wall Street Journal, which quoted the World Bank and Energy Information Administration, Nigeria produces less than half as much electricity as North Dakota for 249 times more people.
Meanwhile, the federal ministry of power, has said the highest level of power generation in the country, in the space of over half a century, was recorded on February 2, 2016, when the country generated 5,074 MW.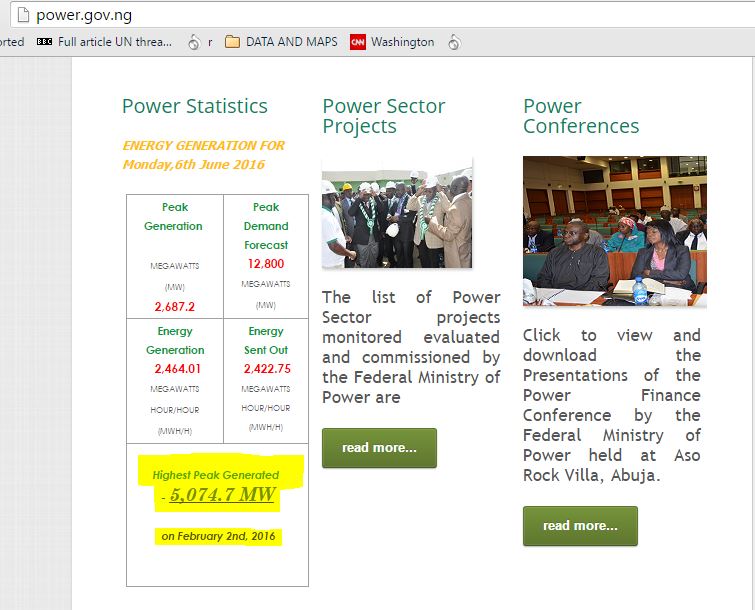 Power peaked at 5,074.7MW on February 2, 2016
This 1,926 MW short of Amaechi's claim.
As at July 26, when Amaechi made this claim, Nigerian Electricity Regulation Commission (NERC) data showed that power generation peaked at 3,082 MW for the week.


Power generation when Amaechi made his claim
Babatunde Fashola, minister of power, who spoke atThe Royal Institute of International Affairs, Chatham House,on August 1, also reiterated the work done on power generation in Nigeria, with emphasis on a power peak around 5,000MW for 2016.
Vice President Yemi Osinbajo, who spoke at the University of Ibadan, the country's premier university in May said: "Early in the life of this administration late last year and early this year, power generation was possibly at its best".
"Nigeria, for the first time, was actually generating 5,000megawatts, which was the first time it will happen in the history of the country,"Osinbajo added, contrary to Amaechi.
FACT: Nigeria was not in recession under Jonathan
The minister, who also served as speaker of the Rivers state house of assembly for eight years, also claimed that there was economic recession, under the administration of former president Goodluck Jonathan.
"If you remember as governor, I said we're broke. The minister for finance (Ngozi Okonjo-Iweala) came to my office in Abuja here and pleaded with me that I shouldn't say it again," Amaechi said.
"So I knew as chairman of governors' forum, that we had goneinto recession under Goodluck (Jonathan)."
First: What is recession?
The International Monetary Fund (IMF),CNNMoney, New York Times and leading economic bodies agree that a recession can be easily identified by "two consecutive quarters of decline in acountry's real (inflation adjusted) gross domestic product (GDP)".
They, however, add that on a global scale, one may need more than thismetric to call a recession. IMF particularly says "it is often better to consider a wider set of measuresof economic activity to determine whether a country is indeed suffering a recession".
Second: Can recession be covered up?
Amaechi alleged that the Goodluck Jonathan administration covered up the recession.
According to the National Bureau of Economic Research (NBER), a private research organisation, which maintains a chronology of the beginning and ending dates of US recessions, recession cannot be covered up.
The NBER's Business Cycle Dating Committee defines a recession as "asignificant decline in economic activityspread across the economy, lasting more than a few months,normally visiblein production, employment, real income, and other indicators".
Your Verdict: Did Nigeria experience recession under Jonathan?
Goodluck Jonathan became Nigerian president on May 5, 2010 and relinquished power by May 29, 2015.
Central Bank of Nigeria datashows that there wasnever a single quarter of negative GDP growthfrom 2010 to 2015, and no "two consecutive quarters of decline (negative growth) in a country's real(inflation adjusted) gross domestic product (GDP)".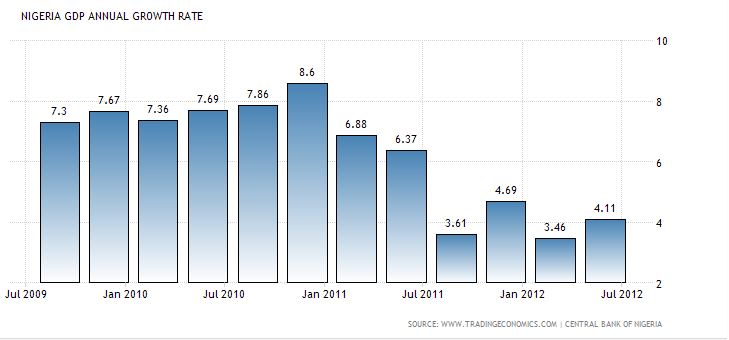 GDP growth by Quarter (Chart by Trading economics)
According to World Bank and the National Bureau of Statistics (NBS) opendata project, Nigeria experience annual economic growth ranging from 7.8 percent in 2010 to 2.7 percent in 2015.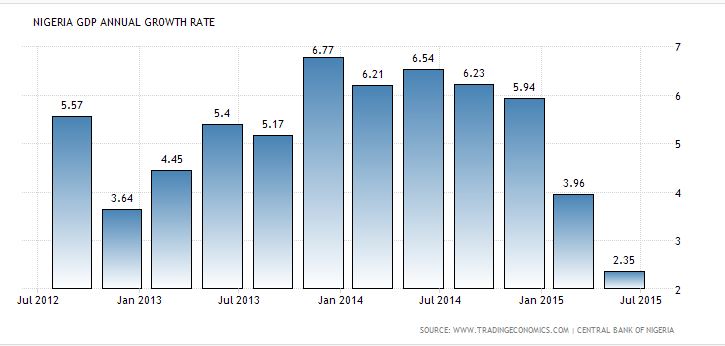 GDP growth by quarter (Chart by Trading Economics)
Other economic metrics, such as inflation, unemployment, also do not show any signs of recession.
According to NBS, Jonathan's administration saw unemployment spike above 10 percent in 2012 from about five percent in 2010. Jonathan left Nigeria with 8.2 percent unemployment.
The administration alsomoved inflationfrom 12.9 percent in May, 2010 to nine percent in May, 2015. No economic indices highlighted by the IMF, World Bank and NBS showed recession within 2010 and 2015.
https://www.thecable.ng/fact-check-amaechis-claims-on-gejs-recession-and-7000mw-power-generation-are-false?_e_pi_=7%2CPAGE_ID10%2C4078599699