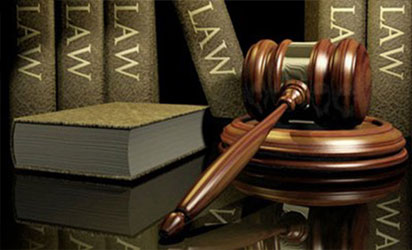 By Onozure Dania
LAGOS —THE puzzle in the murder of a Lagos housewife, Comfort Udoh, took a new twist as the suspected police officer involved in the crime, Corporal Musiliu Aremu, is now allegedly enjoying freedom while relatives of the victim cry for justice.
Finally, Oshiomhole speaks on his meeting with DSS
The case is further compounded as the promises made by the Nigerian Police to cater for the education of the four children left behind by the decease remain unfulfilled three years after.
The late Comfort was allegedly killed by Corporal Aremu, with an AK47 rifle, on September 16, 2015, at Ijegun area of Lagos, when she and her husband, were  returning from church with their four children, who were between the ages of 1 and 12 in the tricycle.
Comfort's husband, Godwin Udoh on the fateful day had refused to give bribe to Aremu and his team of policemen at a road block insisting that the passengers on his tricycle were members of his family. Angered by Udoh's stance, Aremu allegedly fired a gun shots into the moving tricycle, thereby forcing it to a halt. The bullet was said to have shattered Comfort's skull while her husband was hit in the jaw.
Following the public outcry which the matter generated across the country, police authorities arraigned Aremu before an Ebute Meta Magistrates Court on a holden charge. He was subsequently remanded in Ikoyi prisons on September 18, 2015 pending an advice from office of Lagos State Directorate of Public Prosecution.
In 2016, when the matter came up before Justice Adedayo Akintoye for arraignment, Aremu was surprisingly not produced in court. The development prompted the judge to issue a bench warrant against him. Despite the bench warrant, police authorities failed to produce the suspect on subsequent adjourned dates.
While the manhunt for Aremu continued, the fugitive police officer through his lawyer Spurgeon Ataene on February 10, 2017, approached a Lagos High court presided over by Justice Oluwatoyin Taiwo, with an application for bail.
In the bail application, Ataene argued that his client has been in custody for close to two years without a formal charge against him. After hearing the passionate appeal by Ataene, Justice Oluwatoyin Taiwo in a ruling on May 15, 2017, granted Aremu bail in the sum of N1million with two sureties.
When the matter came up for hearing on Thursday, November 8, 2018 before Justice Adedayo Akintoye the case could not go on as the defendant was absent. A lawyer watching brief for the complaint Helen Ibeji, however informed the court that Aremu has been released on bail by a sister judge in 2017.
Justice Akintoye who expressed shocked over the development, adjourned the case for further direction and issued another bench warrant on the defendant. Till date Aremu remains a free man by virtue of the bail granted him by Justice Taiwo.