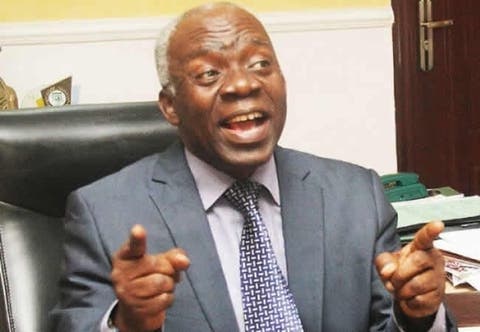 ‌
Eniola Akinkuotu, Abuja
The Chairman, Alliance for Survival of COVID-19 and Beyond, Mr. Femi Falana (SAN), has faulted the claims made by the Minister of Finance, Budget and National Planning, Zainab Ahmed, that Nigeria's revenue dropped by 65 per cent.
In a statement titled, 'ASCAB faults FG on revenue figures, says no need for fuel, electricity tariff hike', which was signed by Falana, the group said there was no basis for the fuel hike.
The finance minister had said on NTA on Monday that Nigeria's revenue had dropped by 65 per cent due to a drop in crude oil price due to the COVID-19 pandemic.
Ahmed had further stated that this was the primary cause of the removal of the petrol subsidy and the deregulation of the sector.
However, the ASCAB chairman said this was untrue as the fund shared by the three tiers of government last month painted a different picture.
He said, "In the first half of this year, oil income distributed by the Federal Allocation Committee was actually 13 per cent above that for last year and the level for the first quarter had been the highest for several years. However, other income, taxes etc, may have fallen due to the lockdowns and other disruptions from COVID-19. NEITI reported that in the first five months of this year, total government revenue was only 62 per cent of the level agreed in the budget, but the revenue budgets are always over-optimistic."
"It noted that the 2020 budget includes a benchmark oil price of $30 which compares to actual international prices now of around $40
"Oil income for future months will probably be higher than expected in the budget. Oil provides about half the Federal Government's income," the statement read.
He added that the Value Added Tax in July was higher than June, indicating that other government revenues were also increasing despite the COVID-19 pandemic.
Falana said the cost of oil in naira is now 20 per cent less than last year so there is no excuse for fuel price increases, noting that Nigerians should be benefitting from the drop in international oil prices despite any devaluation of the naira and that states can easily afford the new minimum wage of N30,000 as their FAAC income is 13 per cent higher this year than it was last year.
He noted that, in addition to selling the nation's electricity companies to private investors at give away prices, the government has given them an intervention fund of not less than N1.7tn while arrangements have been concluded to raise a loan of $2.5bn for the provision of 2,000 megawatts by Siemens.
The ASCAB chairman recalled that during the 2019 electioneering, the President, Major General Muhammadu Buhari (retd.), said the sum of $16bn wasted on the electricity sector by the Olusegun Obasanjo administration would be investigated but that nothing had been done to retrieve the fund.