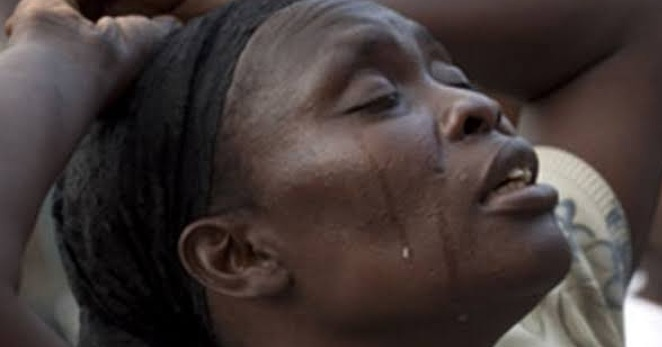 File photo to illusrrate the incident
•As housewife, others narrate bitter experiences
By Ezra Ukanwa, Abuja
The desire to become rich overnight has led many people to fall victim of what appear to be genuine investments but which turn out to be schemes designed to defraud unsuspecting people. Many of such victims have lost their lives due to depression while those who survived have become wrecks. Such is the case of two brothers, Ifeanyi Eze and Promise Eze who are yet to recover from their depressed condition after a failed investment worth millions of naira sometime in 2021.
After series of efforts to speak to the brothers failed following their mental condition, Saturday Vanguard decided to engage their mother who was very sorrowful and could not hold back her tears. She explained that both boys had invested five million naira, in a Ponzi scheme and the money was supposed to be for a business startup. They were assured of good returns but they were disappointed as the scheme crashed and nothing was learnt of it afterwards.
According to her, "I am in deep sorrow from what happened to my only two sons. I have tried everything medically and otherwise to address the problem but it has proved abortive. It started when they received the sum of five million naira from a relation to start a business but one afternoon, I saw them making some calculations with one of their friends. I didn't know that these boys were planning their way to their current situation because after some months, we discovered that they had gambled with that money.
"After much interrogation and findings, we discovered that they had invested that money in a network and as soon as they invested the money, the platform crashed. I was very mad at them. When they got to know about the situation that the scheme had crashed and had no way to communicate with the company, my boys went into serious depression. They mostly stayed indoors. This happened for months until we began to notice that Ifeanyi would be speaking loudly to himself. We have tried several medications which didn't help and this continued for a very long time until one day when he got so angry, stripped himself naked and ran away from the house. He was however brought back home with the help of friends.
"Promise on his part also talks to himself and does nothing although he has been trying to come out of the situation. We have spent a lot of money on drugs just to redeem these children but we have not been successful. The situation keeps getting tougher. When we went to the hospital and the boys were examined, the doctor explained that their current condition was as a result of depression following a failed investment which affected them.
Other cases
Another case was that of one Mrs Chineye Chibuzor, who had invested about 15 million naira into a Ponzi scheme that swindled scores of Nigerians in 2021. According to her, the scheme appeared different and promising at the time so she decided to invest 15 million into it.
She said, "I was honestly deceived by what I saw. The founder appeared to be a man of God who drew many of his workers to Christ.
But, shockingly, just when I invested 15 million naira which was my second investment, everything went into thin air. Since that investment, my marital life has not remained the same because my husband who stays abroad warned me and asked me to use that money for business but I was deceived. It took a lot from my marriage because after the whole thing my husband changed his attitude towards me and ever since I have been trying to work things out".
She, however, cautioned Nigerians against quick money "and stay away from anything that seems too good to be true."
Another youth, a former student of the University of Port Harcourt, Ademola Mutiu, who also fell victim to the ponzi scheme said: "I actually invested money during the time that many Nigerians were swindled by a very popular ponzi scheme. Since that time I have not recovered till now. I have been damaged. I was trying to double my school fees, so I invested in it and the scheme crashed. I could not raise more money to pay for my school fees because my parents were very angry with me. I could not get the money early enough so the vice chancellor of my school asked those who couldn't pay to leave and our admissions were withdrawn. Since then my parents asked me to go into tailoring and that is what I have been doing since then."
Experts speak
The Managing Director, Pinnacle Medical Services, Maymunah Yusuf, who explained why many Nigerians ignore red flags and still invest in Ponzi schemes, identified greed and get-rich-quick syndrome as the major drivers of the now-rampant fraudulent investing scam. According to him, other psychological biases other than greed that make investors vulnerable to scams are financial pressure, unemployment, gullibility and ignorance.
Speaking on how investors who are victims can recover from the consequences of their vulnerability, he urged them to contact an experienced investment loss company, join an accountability community, avoid putting pressure on themselves and seek the services of a mental health professional.
He, however, advised those who have lost huge amounts of money to Ponzi schemes to begin taking their mental state seriously following recent increase in the statistics of mentally ill youths which may be as a result of failed investment.
He said, "I think everyone is on the fast lane and wants to make high returns on their investment to catch up with the erosion in purchasing power of the naira savings and also as a hedge against financial insecurity, which seems to have enveloped a large proportion of the population.
"Again, we cannot rule out the increasing greed of an average Nigerian which is partly fuelled by the ostentatious and oppressive lifestyle of political elites and rent-seekers, who became rich overnight mostly on the back of underground activities.
"Sometimes, people invest in many of the Ponzi schemes with limited consideration for the risk but often time out of ignorance of the inherent risks of the ventures they sink their money into.
"Again, greed tends to obscure people's rationality in making these investment decisions, as the urge to double their capital investment in no time keeps pushing them to invest in the Ponzi schemes without relevant due diligence."
He argued that the regulators were making efforts to tackle the problem but they had limited resources to track and prosecute the increasing number of these fragmented and polarized Ponzi schemes.
Director-general of SEC, Lamido Yuguda, at a national fact-checking course organized recently by the National Orientation Agency, noted that Ponzi schemes, with all the illegality and promises of unrealistic returns, had "burnt the fortunes of many ambitious investors.
"The upsurge of these schemes has undermined the reputation of the capital market and dampened investors' confidence, among other things. This has created a considerable challenge to the growth of our market, and the Commission is striving to change the narrative by ensuring a fair, transparent, and orderly market. While we encourage more retail investments, we urge you to invest in investment classes and products approved by the SEC", he said.
During a meeting with SEC, Ben Llewellyn-Jones, British Deputy High Commissioner to Nigeria, highlighted the need for the regulator to create more alternative options for investments for all classes of people as one of the ways of pulling people away from unregulated space.
"The more you can create alternative options, the easier it is to pull people away from unregulated space", he said.
In 2016, three million Nigerians lost N18bn when a particular Ponzi scheme crashed, according to Nigeria's Securities and Exchange Commission. From available data generated by the Norrenberger Financial Investment scheme, Nigerians have lost over N300bn to ponzi schemes over the last five years. The scheme involves fraudulent organizations or individuals operating a money laundering system where investors are lured with the promise of high returns on investment after a specified period. The system runs in a somewhat cyclic fashion by paying old investors with deposits of new investors. Usually, this cycle becomes unsustainable when the backlog of old investors eligible for payments exceeds the investments coming into the system.
Vanguard