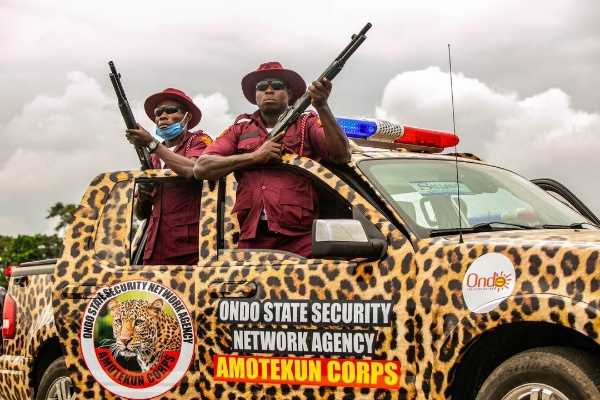 By Dayo Johnson
Akure—Ondo State security outfit, codenamed Amotekun, yesterday, said that no fewer than 20 commercial motorcyclists have been killed and their motorcycles stolen within three weeks, across the state.
It's commander, Adetunji Adeleye, who expressed worry over the ugly development, said it was rampant in Akure, the state capital.
Adeleye, who reiterated the security outfit's determination to reduce all acts of criminal activities to the barest minimum during the yuletide season, advised against riding motorcycles at night.
He said: "The ban of commercial motorcycles from 6p.m., to 6a.m., remained as put in place by the government but will not affect motorcycles on essential duties."
According to him, "20 cases of commercial motorcyclists killed and their motorcycles stolen was recorded in the last three weeks, hence it is risky to ride motorcycles in the night.
"We want to appeal to commercial motorcyclists to rest if they work for 12 hours, so that we can identify the criminal entities.
"It is also no longer permitted for vehicles to ply the road without registration numbers, and all vehicles with tinted glass should obtain Police permit for them.
"Dealers should use dealer numbers, not stickers because all vehicles with stickers only will be impounded. These are some measures we put in place to guarantee safety of lives and property in Ondo State."
Adeleye, who paraded 11 criminal suspects, arrested with locally-made weapons, said that the corp had commenced 2023/2024 Ember Border Patrol activities.
According to him, "Some of the weapons, were cut to size or longe range, and this development is seen as their way of preparing to destabilise innocent residents and commuters in Ondo State.
"We are determined to make thier act impossible and we are sending this message to them and anybody planning to forment trouble during this yuletide, that it is not business as usual again.
"Our men will be deployed in all black spots that have been observed in Ondo State, especially Akure. Our patrol vehicles will be in 24 hour basis throughout this period.
"In collaboration with other security agencies, we are determined to reduce to the barest minimum all acts of criminal activities ranging from kidnapping, shop or house breaking."
The commander recalled that last year, "We were able to rescue over 100 kidnapped or robbed people, but for this year's patrol, we are ready to do more and we thank the people and ask for more support this year."