By Ikechukwu Nnochiri
ABUJA—The Chief Justice of Nigeria, CJN, Justice Walter Onnoghen, yesterday, said he had received a compiled list of 1,124 high-profile cases that would be monitored by the Corruption and other Financial Cases Trial Monitoring Committee (COTRIMCO), recently constituted by the National Judicial Council, NJC.
The CJN who made the disclosure while inaugrating the Justice Suleiman Galadima led committee, said the compendium of pending corruption cases were transmitted to his office by heads of various courts across the country.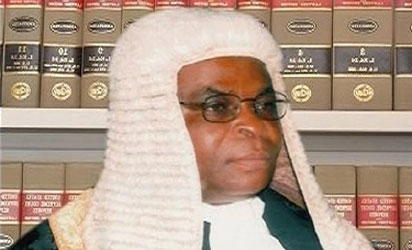 He said the committee was formed as an evidence of commitment of the Judiciary to lend support to efforts of the President Muhammadu Buhari's regime to rid the nation of corruption.
Justice Onnoghen stressed that all aspects of the judiciary and its duties would be scrutinised, improved and re-aligned towards achieving a holistic reform.
He explained that all the institutions of the Judiciary and Heads of all the Courts had been advised to provide the Committee with necessary information and support to enable it to make decisions from informed perspective.
The CJN however regretted that a former President of the Court of Appeal, Justice Ayo Salami, who initially agreed to head the NJC anti-graft panel, subsequently pulled out "for personal reasons".
"We do hope however that his lordship, Hon. Justice Ayo Salami, OFR, will in the near future, be available to offer the judiciary in particular and the nation in general the benefits of his wealth of experience", the CJN said.
He however paid tributes to members of the committe for accepting to serve their fatherland inspite of their numerous other engagements.
The CJN said the choice of members of the committee was purely on merit and in recognition of their track records of service, as well as contributions they made to the development of the country's law and jurisprudence.
He implored them to come up with strategies that will help eliminate delays and its attendant effects on the speedy disposal of corruption cases.
He advised the committee to do all it can to justify the high level of public confidence reposed in it.
The post NJC anti-graft committee: I've recieved 1, 124 corruption cases — CJN appeared first on Vanguard News.