Man who raped undergraduate blows hot: I'll deal ruthlessly with anyone that rapes my daughter
By Dayo Johnson
AKURE—A 35-year-old commercial driver, Waheed Yusuf, married to two wives, paraded by the Ondo State Police Command for raping an undergraduate, weekend, said he will harm anyone who rapes any of his daughters.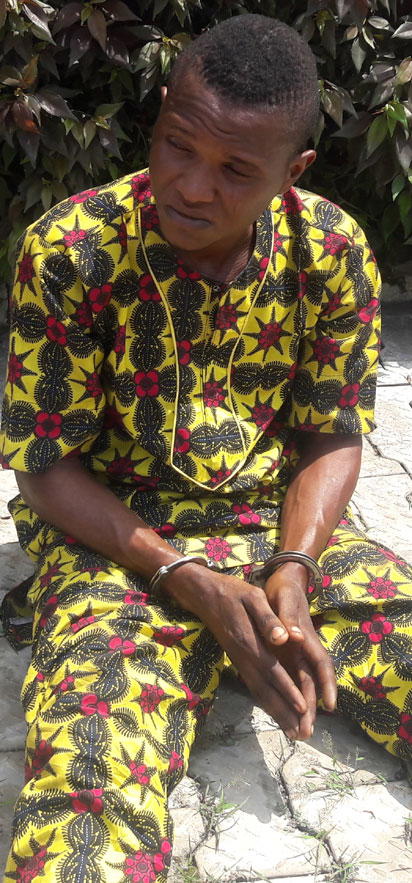 Waheed, who has three children, blamed the devil for his act of raping a 28-year-old undergraduate of Obafemi Awolowo University, Ile-Ife, Osun State.
Asked what he will do if anyone rapes his daughter, he flared up: "I will not take it lightly; I will not only harm the person, but also deal ruthlessly with him."
He said someone in Osun State, who is not comfortable with his progress, must have cast a spell on him. He pleaded to be given a second chance.
The rape
Briefing newsmen in Akure, the image-maker of the Command, Femi Joseph, said the suspect committed the crime at about 8p.m. on February 25.
Joseph said the suspect transported the victim from Agbogbo area of Akure to Ile-Ife. On getting to Ile-Ife, other passengers alighted from the vehicle and when the suspect noticed that it was the victim that was left, he drove her into the bush, where he raped her after threatening her with a knife.
The suspect was also alleged to have dispossessed the undergraduate of her valuables— a phone, an i-Pad and N4,000.
Joseph said the victim, who sensed that her life was in danger, played along and later reported the incident to the Police.
Police detectives tracked the suspect to Ogun State, where the victim's phone was recovered from him before he was arrested.
Joseph said: "A search warrant was executed in the house of the suspect and one flash drive with the i-Pad's cover were recovered. The suspect has confessed to the crime, but blamed the devil. We will soon charge him to court."
Robbbers, cultists
Also, the Police paraded eight suspected robbers and cultists.
Joseph noted that men of the Special Anti-Cultism Squad of the Command arrested three suspects in Oka-Akoko, while four others were arrested in Owo, with some dangerous weapons they used to unleash terror on their rival groups recovered.
The Police paraded a 23-year-old man named Ayomide, who specialised in using motorcycle to dispossess people of their belongings.
The Police image maker added that the suspects will be charged to court after investigations.
One of the suspects, Taiwo, told newsmen he was arrested for wearing Police camouflage uniform, which belongs to his father who was a policeman.
The post Man who raped undergraduate blows hot: I'll deal ruthlessly with anyone that rapes my daughter appeared first on Vanguard News.