My interest was in music, but acting took the shine —Dayo Amusa
Seasoned actress cum producer, Dayo Amusa is a force to reckon with, having made great impact in the Nigerian movie the industry. She has also proven to be an all- round entertainer as she expanded her frontiers to the music industry where she has been receiving accolades from lovers of Nigerian music. In this interview with Showtime Celebrity, the Lagos State-born actress talks about her acting career, music and aspirations among other issues.
By ADETUTU ADESOJI
You have been acting for over 15 years now, how
has the journey been?
It has been interesting as well as challenging. But  all the same,  I'm still here.
What are some of the challenges you have faced in your career?
I would say the challenge of producers accepting me as an actress. Growing up in the industry, I felt like I have been stereotyped, people saw me as a tomboy and producers taught I could not fit into other roles. It was a very challenging period for me but then, it didn't take long before I was able to prove my critics wrong. That was when I produced my first movie 'Ajegbodo' in 2006. It  was an all female cast movie and it treated the issue of HIV/AIDS. It was  a game changer for me. As a producer, one thing that affects every producer is the issue of piracy which we are still trying to curb till date.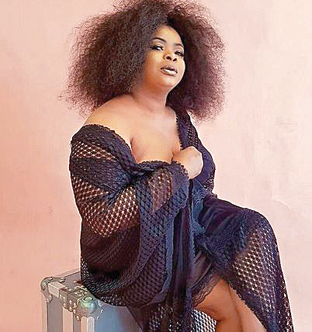 Why did you decide to become a producer?
I didn't go into producing because I wanted to make money. It is more like I have something to talk about  and I have a good platform to get it across to people.
How many movies have you produced?
So far, I have 11 movies to my credit. I produced 'Oogun Mi', 'Aroba', 'Dewunmi Iberu', 'Unforgivable' and 'Pathetic' to mention but a few.
You are also a school proprietress, what is your interest in education?
Yes, I own a crèche, PayDab crèche; the one in Ibadan is a funfair that opens during Christmas, Easter and other celebrations. I love children a lot and that inspired my decision to start a crèche and of course, I'm looking at the business aspect of it. The creche is established somewhere that something like that isn't very  common. So, I felt I could take advantage of the opportunity.
You are also a singer, what stirred your interest in music?
Music is something I  enjoy doing while growing up.  I have been singing since  my  childhood. While in school, I was part of the choir, but when I delved into the entertainment industry, I got attention as an actress. I felt I should embrace that platform before delving into music.
Are you also planning to  do  music full time?
I'm an entertainer and anything that I find interesting and unique to entertain my audience, I'm out there doing it; be it music or movie.
What is the level of appreciation of your music like so far?
I'm glad that my music has been well appreciated by my audience. Although I have had people criticize the fact that I'm an actress who is also doing music. Over time, they have come to understand my kind of person and the reason I put out the contents that I do. It has been interesting, encouraging and wonderful. I enjoy every bit of it.
What would you say stands you out from other artistes?
I would say my voice and the kind of messages my songs convey to the people differentiate me  from other artistes.
What inspires you to write songs?
My environment basically inspires my song, things I read; happenings around me, what I listen to on the radio and read online; things that I see generally inspire me.
How do you combine acting and music that one doesn't suffer over the other?
I believe in planning. Like they say, if you fail to plan, you plan to fail. I have a good team that I work with and we have a way of doing our thing, we strategize on what we want to do at every quarter of the year and what we want to achieve at the end of the year. By the grace of God, it has always been a smooth journey for us.
You have done songs with Oritsefemi and Pasuma, are there other artistes you are looking forward  to working with?
I have a couple of artistes in mind. Although I have worked with some of them already, the songs are yet to be released.  I have worked with K1, Toby Grey and Reminisce.
Do you have any project in the pipeline?
I have two movies coming out soon, 'Omoniyun' and 'That which binds us.' Omoniyun centers around the issue of human right against tradition. It also talks about child molestation and happenings in our  society. It's  set  back to the early 80's. 'That which binds us' talks about love and that one thing that we could say binds us as a family, co-workers and so on.
Are you dropping an album  soon?
I will be releasing a five track EP soon alongside my movie, "Omoniyun." These are the official soundtracks for the movie, and all the songs are recorded by me. I will also be dropping one or two singles before the year runs out.
What is the highlight of your career?
The fact that I have come to stay as an entertainer. Every bit of teh journey has been worth while.
Is your song 'Marry Me' a message to someone special to you?
I hear this all the time but that is far from it. I like to pass messages across to people because I see myself as a voice for the voiceless. 'Marry me' is just an expression of a young woman out there who is hoping to settle down and the guy is not forthcoming or seeing the signs and all that, then she resorted to finding peace within herself. It is just a way of expression and has nothing to do with me personally.
Are you in a relationship?
I don't want to talk about my relationship or  marriage. All I can say is that I am happy in my relationship.
What is typical Dayo Amusa like?
I'm a very homely person. I can be very playful. I like to stay home with my family whenever I'm not working.
What inspires your style? 
I'm a jeans, T-shirt, palm slippers  kind of person; these are the things I feel comfortable in.
The post My interest was in music, but acting took the shine —Dayo Amusa appeared first on Vanguard News.