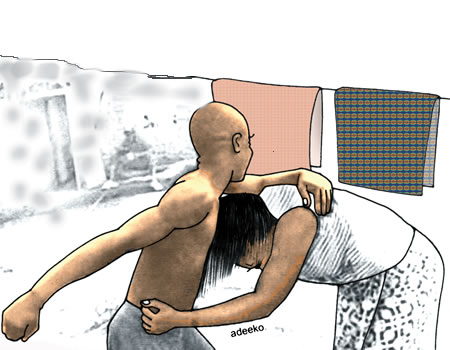 A woman in her early 40's, Jumoke  Omoyajowo, has told Oja Oba/ Mapo Court C Customary Court, Mapo, Ibadan, Oyo State, she's no more interested in her 11-year-old union with her husband, Jamiu Omoyajowo.
Jumoke alleged that her husband who is an OPC member, was irresponsible and dubious. She added that he was always threatening her with charms and would beat her to pulp.  According to the plaintiff, her husband once beat her mother blue-black.
The plaintiff, as a result, prayed the court to abort their relationship and grant her custody of their three children in order that she might give them adequate care.
Jamiu refused to come to court after having been served a court summon and hearing.
Supreme Court slates May 24 to deliver Judgment in Zamfara, Ekiti suits
"My lord, I'm tired of my husband and fed up with our marriage.
"My husband can best be described as a nuisance. He is never in a good mood. All he does is to shout and scream on me and our children. He's also a bully and will sometimes beat me to a state of unconsciousness.
"He cares less about our welfare and has passed the responsibility of feeding and clothing our children to me. He has never given me a dime as allowance for food but he expects to be served sumptuous meal on his return from work. Shameless as he is, he sits at the table, eats and licks his fingers.
"After eating to his fill, he will pounce on me and beat the hell out of me," she said.
"My husband is not a straight person and dubious in nature. He has often  got involved in shady deals which almost resulted in the whole family being locked behind bars.
"He has never shown interest in our children's education. I enrolled them in school and have been responsible for their fees and books. He doesn't even know what classes they are.
"I stopped having sex with him seven years ago to show my displeasure at his behaviour, which is one of the reasons he beats me.
"Being an OPC member and in possession of charms, he took to threatening me with juju. I reported him to my parents and my mother took steps in mediating in our differences. He took offence at this and beat her mercilessly.
"My lord, he insulted my family by this act.
"I can no longer stay in marriage with a man who treats me with disdain, places no value on our children and has no regard or respect for my family members.
"I pray this court to separate us today and hand over our children to me for proper care. My husband, aside being a bad example to them has never been interested in their welfare.
Having listened to the plaintiff and considering the fact that the defendant refused to show up in court after being served two summons which, according to the court president, Chief Ademola Odunade,  shows he was no longer interested in their marriage, he thus dissolved their wedlock.
Odunade awarded custody of their three children to the plaintiff and ordered the defendant to be responsible for their general welfare. According to him, their feeding, education and health care must be his major priority.
He ordered the defendant to pay N15, 000 monthly as their children's feeding allowance. This, according to him, must be paid through the court.
The post 'My OPC husband threatens me with charms; beats me, my mum to a state of coma' appeared first on Tribune Online.