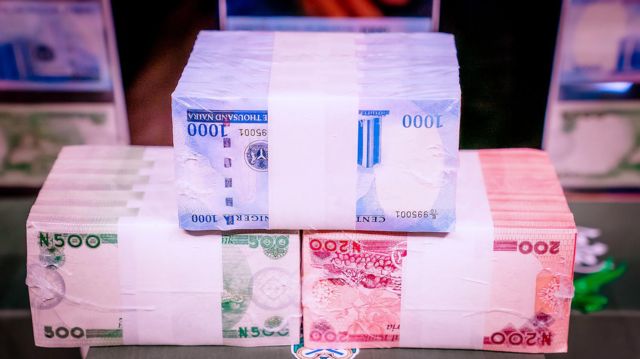 By Chidi Nkwopara, Owerri
Emergency currency hawkers have emerged in Owerri, Imo State capital, following the inability of the citizens to access the new Naira notes.
This development, Vanguard gathered, may not be unconnected with what some respondents called "the inability, unwillingness or slow pace of dishing out the new notes by the commercial banks."
A chaotic scene was noticed, when Vanguard visited the Automated Teller Machine, ATM, galleries of the commercial banks in the municipality, weekend, as people made frantic efforts to get some money for their use.
The story was, however, different at various Points of Sales, POS, and agents visited and interviewed.
A female POS agent (names withheld), near one of the commercial banks along Mbari Street, Owerri, said: "I will take N1,000 for every N10,000 cash of the new currency you (Vanguard) want."
Asked to explain why the hike, she said: "I paid through my nose, at Ama Hausa, where I got the new notes. I don't know how they got the new notes but you (Vanguard) can get any quantity you want from them, if you are ready to pay their bill.
"Don't forget that the banks won't give anybody, all the cash the fellow wants. For now, I think nobody can withdraw more than N10,000 or N20,000 from the ATM. This is where the Nigerian government has placed everybody."
A staff of one of the banks in Owerri, told Vanguard in strict confidence that they have little or nothing of the new currency in their vault.
The staff said: "We have little or nothing of the new Naira notes in our vault. Once the supply comes, big men come and collect them, at a price.
"How many of the big men do you find at the ATM queues? It is only the poor and hapless that suffer in this land. That is the country we have found ourselves in."
A careful check of the short distance between Onumiri Street/Douglas Road junction and Mere Street/Douglas Road junction, showed a couple of hawkers of the new and foreign currencies, who were very ready to enter into a deal with Vanguard.
Meanwhile, some concerned citizens have started expressing angst over the situation.
Lamenting over his experience, Chief Obinna Ibole said: "What is all these? My bank couldn't approve my ATM transaction, but somebody operating POS beside the bank, paid me N30,000 in new currency!"
Joy Akuchi Okoro opined: "Every crisis is an opportunity in Nigeria, for people to either exploit their fellow citizens or make quick and illegal money.
"I can assure you that the real essence of the currency change, may not be fully realized, in the ongoing exercise. We have always had sinister ways of circumventing all policies and programmes of government.
"It will be very miraculous if the current currency change will become an exception."
Vanguard