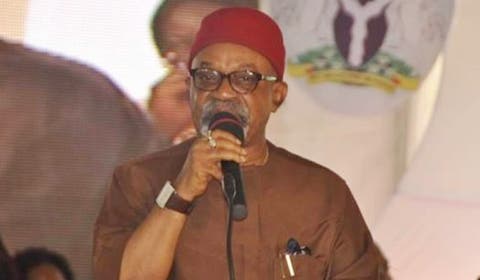 Eniola Akinkuotu, Abuja
About a month to the end of his tenure, the Minister of Labour and Employment, Dr. Chris Ngige, will on Thursday inaugurate the management board of the Nigeria Social Insurance Trust Fund, The PUNCH has learnt.
The programme of events which was obtained by our correspondent stated that the event would take place at the minister's conference room at the federal secretariat, Abuja from 9am and will end at 2.30pm.
Ngige's decision to inaugurate the NSITF board comes over 18 months after President Muhammadu Buhari appointed 11 persons to occupy positions on the board.
The membership includes a former General Secretary of the National Union of Petroleum and Natural Gas workers, Frank Kokori as Chairman; Deputy President of the Nigeria Labour Congress, Peter Adeyemi; Treasurer of congress, Khaleel Ibrahim; Larry Etta and Timothy Olawale as representatives of Nigeria Employers Consultative Association.
Others are representative of the Central Bank of Nigeria, the managing director and three executive directors of NSITF and the Permanent Secretary of the Ministry of Labour and Employment, who will represent the ministry on the board.
The minister had refused to inaugurate the board since October 2017, claiming that he was investigating the activities of the previous NSITF board, some of whom had already been arraigned by the Economic and Financial Crimes Commission.
Ngige set up a panel in February 2018 with the task of making recommendations that would help reposition the NSITF.
The panel, which was supposed to have submitted its report in six weeks, did so after 16 weeks.
After receiving the report in June 2018, however, the minister still failed to inaugurate the board for reasons best known to him.
Ngige's refusal to set up the board eventually landed him in trouble with the National Chairman of the All Progressives Congress, Adams Oshiomhole, who claimed the minister refuse to inaugurate the board because he wanted to continue to have direct control of the funds of the NSITF.
Oshiomhole alleged that in the absence of the governing board, Ngige remained the final authority with the power to award contracts.
The APC chairman said he would not condone indiscipline in the party even if Buhari was condoning such insolence from his appointees.
However, the minister rubbished Oshiomhole's allegations, insisting that the party chairman lacked a clear understanding of the workings of government.
The minister, who had declared his intention to contest the Anambra-Central senatorial seat, eventually dropped his ambition during the height of the feud with the APC chairman.
The NSITF is a social insurance scheme designed to provide compensation to employees who suffer from occupational accidents or diseases in the line of duty. The organisation is funded by deducting one per cent from all government and private sector employees enrolled in the scheme.
The agency generates billions of naira monthly and is seen as the most 'juicy' agency in the Federal Ministry of Labour and Employment.