BeardGang! Alluring looks of Nigerian male entertainers
Vanguard News / Nwafor Polycarp / 2 hours ago
By BENJAMIN NJOKU
In the past, growing beard was the exclusive preserve of the aged and the wealthy people. But today, the story is different. It's not just a fashion item for the big boys, but also, those in the spotlight are catching up with the trend. And many of them are really going out of their way to sport facial hair,knowing that ladies go gaga over good-looking bearded male celerities. But if you think you have seen the best of bearded Nigerian entertainers, just hold your breathe, until you finish reading this interesting compilation.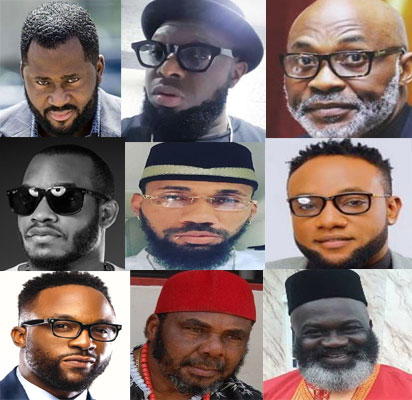 RMD
Popularly called RMD, Richard Mofe Damijo is still in the spotlight.  Since he returned to his first love-acting, after he left politics few years ago, having served twice as Delta State Commissioner for Culture and Tourism, RMD has been sporting a unique look that stands him out in a crowd. He once explained that he decided to sport a new personae after he left politics to announce his return to the industry. "I wanted to sport a new personae. In politics, it was a lot more severe. Now, I am back to my first calling where I am not answerable to anybody but myself and my fans. If my fans like my new look, who cares what anybody would say," enthused. He has not looked back since then.
Rapper Phyno Fino
Everybody  knows that rapper, Phyno has been grooming his beards for a while now and it appears that his beards have grown to their full potential. His female admirers can't stop gushing about  his fresh  looks and God knows how many of them who would want to have him as a boy friend, husband or  a bed-mate.
Timaya
From the time he hit the limelight, Timaya has been associated with cleanliness. And he indicated by growing his beard, and everybody followed suit. It has remained his trade mark till date. And he's not thinking of getting rid of it for any price.
Zack Orji
Zack Orji once revealed that he has been wearing his beard for the past 36 years and it has become his signature. Unknown to many, Zack started sporting a clean-cut beard even before he featured in his first movie "Unforgiven Sin" which was released in 1991. "I have been wearing my beards for the past 36 years, "he said.
Jibola Dabo
Jibola Dabo has long created an identity for himself as a thorough-bred actor. The gray bearded veteran actor has sported this look for as long as you can remember. Those who are close to him said the legendary actor started growing facial hair at a very young age. Even though his facial hair gives me away as one who's older than his age, he has, however, succeeded in carving a unique identity for himself and his female  fans are not complaining.
Singer Kcee
Kcee started growing beards lately for two reasons. One, he's wants to look hot and irresistible before his female fans. Secondly, it's becoming fashionable to see celebrities sporting facial hair that can give them a unique identity. But whatever is his reasons for growing his beard, it really does look good on him.
Victor Olaotan
Nothing can make former Tinsel star, Victor Olaotan to get rid of his much cherished afro-hair and goatee that makes him look hot. The veteran actor whose journey into the world of acting dates back to the 70s,  once revealed that he started wearing his goatee about 40 years ago. He added that he  carries his goatee as "a mark of honour and a logo."
Desmond Elliot
People believe, Honourable Desmond Elliot has a baby face and sporting a beard that will enhance his looks will do the magic for him.  And so, it's paying him off. Even though he  looks great and attractive with a beard, most of his fans prefer to see  him wear a clean shaved face.
Pete Edochie
Pete Edochie popularly called Ebube Dike once said he can't shave his beard even for $1m.  His most cherished possession today is his beard. Being one of Africa's most talented and respected actors, Edochie's beard which has eventually become his trademark is as old as the man himself. As far back as the 1980s, when he played the lead role of Okonkwo in an NTA adaptation of Chinua Achebe's all time best selling novel, "Things Fall Apart', Edochie had started sporting beard and it has endeared him to many people across the world.
Emeka Ani
Emeka Ani is one actor who has intimidating look.His bushy beard frightens children. Though he has distinguished himself as one of Nollywood's bearded stars, Ani's beard has become an integral part of his being. He started growing his beard long before he featured in Igwe Gabosky's movie, "Battle of Musanga"in the 90s and he has sported the look as long as you can remember. People usually associate him with his beard.
Lynxxx
Rapper and CEO of Syndik records, Lynxxx always look hot and trendy sporting his beard. He shared the same traits with the likes of singer, Harrysong, Iyanya, Uti Nwachukwu, Ras Kimono, Banky W, among others. The represent the new generation of Nigerian celebrities with a perfect looks.
The post BeardGang! Alluring looks of Nigerian male entertainers appeared first on Vanguard News.