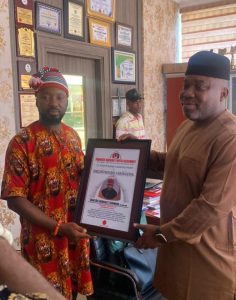 Ohaneze Ndigbo Youth Assembly Honour Dr Anthony Ezekwugo with Nnamdi Azikiwe Legacy Peace And Unity Leadership Award for Exemplary Leadership.
_As OMEZIRI NDIBGO 1 NA NIGERIA_
speaking during the award presentation Prince Emmanuel Kwendus, President General Ohanaeze Youth Assembly, said that Dr Anthony C Ezekwugo CEO NURNBERGER GROUP, deserved the title and more because of his selfless service to humanity and country at large.
He further stress that Dr Anthony C Ezekwugo is an Examplary Leader with human capital development attributes.
The Dr Nnamdi Azikiwe Legacy Peace And Unity Leadership Award as OMEZIRI NDIBGO 1 NA NIGERIA Title presented to Chief Dr Anthony C Ezekwugo is due to Recognition of his Contribution to Nation Building, Economy and Human capital Development, Good relationship with ndigbo within and outside his jurisdiction, peace and unity of our country, student & youth empowerment, charity to less privileged and dedicated service to God, humanity and country.
Dr Anthony C Ezekwugo in response appreciate the OHANEZE NDIGBO YOUTH ASSEMBLY for finding worthy of the honor of Ndamdi Azikiwe Award, saying it was like a family gathering.
Express his willingness to continues supporting the Youth,People of Ndigbo in mentorship and giving them the platform to study business.
He however advising them to be humble in learning the process of business and also be patience, for example someone working as apprentice without pay learning base on agreement with master, who will after some years will be settled to start their own business and also be a business owner will succeed in the business because he/she was patience enough to learn and have an understanding of the process.
He further advise Ndigbo youth within and without is jurisdiction to show interest in civil service in the nation in order to be part of the system.
Furthermore my passion to empowered the youth to standout and the passion of the development of our country is unreversable, I will continue to help humanity, this is a call to do more.