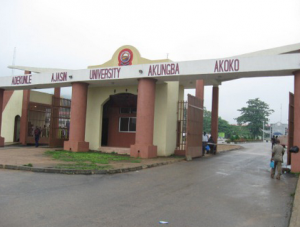 Students of the Adekunle Ajasin University, Akungba Akoko, (AAUA) Ondo State, on Wednesday, went on rampage over what they described as obnoxious policy of the school management.
The students were said to be protesting over the decision of the school management to impose the new rule of No School Fee, No Test.
It was gathered that the students who were billed to commenced the mid semester test, kicked against the management decision when some of them were turned back from writing the test
This students protested over the move by the school management while others who had paid their fee joined their counterpart to protest over the action of the school.
It was gathered that this disrupted the mid-semester tests, while the students vowed not to sit for the test.
The students described the institution Vice Chancellor, Prof Igbekele Ajibefun and the Pro-Chancellor, Dr Tunji Abayomi as insensitive to their plight, saying the state government increased the fee of the school last year following the recommendations of the VC and Abayomi.
One of the students, Emmanuel Ojuko said "how can you expect a student that is yet to pay normal school fee to pay additional N10,000 fine for late registration. I know if such students or their parents have the tuition, they would have paid since. it is obvious that most of these leaders are heartless, while most of them enjoyed scholarship during their days, but they are now putting more financial burden on the less privileged."
He noted that the action of the management if not reversed could lead to mass protest by students saying the new rules could force many students out of school.
He expressed his dissatisfaction over the harsh policy of the present administration in the school urging them not to push the students to the wall.
Meanwhile, the protest led to the abrupt closure of the school by the management, asking the students to proceed on Mid Semester break.
This is to avoid any breakdown of law and order within the campus and school community.
This was contained in a statement signed by the school Registrar, Dr Sunday Ayeerun, which read : "The Management of Adekunle Ajasin University, Akungba Akoko, Ondo State,has approved a Mid-Semester break for all students of the University.
"All students of the university are, therefore, advised to proceed on the Mid-Semester break with immediate effect.
"Students are to resume to campus on Monday, May 20, 2019."