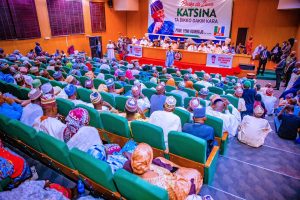 Agency Report
A bloc in Peoples Democratic Party, Concerned PDP League, says it is opposed to any attempt by the party to present Sen. Aminu Tambuwal, as Senate Minority Leader.The Chairman of CPDPL, Mr Daboikiabo Warmate, alleged in a statement on Wednesday that the group was not in support of Tambuwal, based on his actions as the Speaker of the House of Representatives.
Warmate said that instead of Tambuwal, the position should rather be zoned to a state in the North-Central, precisely Plateau State.
"That his ambition is dead in its imagination, how much more arrival; nevertheless, the past has caught up with him," he said.
Warmate stated that Tambuwal had, during his leadership as Speaker of the 8th House of Representatives given to him by the PDP, defected to the All Progressives Congress.
"It is with great disappointment and shock to have read in the papers that Tambuwal, the former Governor of Sokoto State and PDP Governors Forum Chairman, wants to be the minority leader of the 10th Senate.
"Somebody who in 2014 took the House of Representatives Speakership we gave to him and defected to another party. This same person eventually came back to the party.
"Now, he wants to be the minority leader of the 10th Senate; we will not give support to you.
"Look, for many years, he was the PDP Governors Forum chairman, but could not speak against the suppression and sufferings of Nigerians," Warmate said.
According to him, Tambuwal cannot be trusted the second time and does not have the courage to be the Minority Leader of the 10th Senate, judging from his antecedents.
He called for a midterm convention to be followed by the dissolution of the National Working Committee of the party to make room for fresh ideas.
The group also urged the Acting National Chairman of the party, Amb. Umar Damagum, not to sign any letter introducing Tambuwal as the Minority Leader of the 10th Senate.
"The former PDP Governors Forum Chairman performed woefully as a leader of the opposition party.
"No, enough is enough; PDP members cannot be used and dumped.
"It is Peoples Democratic Party, not Elite Democratic Party or Stakeholders Democratic Party, and that is what we want them to know.
"We will not allow members, leaders, or any leader to use the party and dump it at will, no! That is unacceptable. We need to tell them the truth."
Warmate commended the immediate past Governor of Rivers State, Nyesom Wike, for providing the needed opposition voice in the eight years of the APC Buhari-led Federal Government.
(NAN)