By Chidi Nkwopara, OWERRI.
Commuters on the ever busy Owerri-Orlu federal highway, were Saturday, stranded as countless operatives of the Counter Terrorism Unit, CTU, of the Imo State Police Command, blocked the road in protest.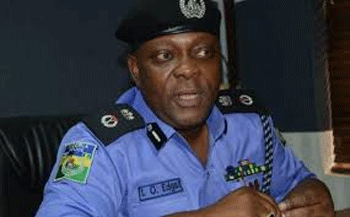 The mutinous protest, which caused serious traffic gridlock on the road, as well as sent shivers through the spines of innocent citizens, was the second of such protest in two straight days.
What made the matter worse, was that the mutineers wore face masks to effectively hide their identities, shot indiscriminately into the air, as well as lit huge bonfires on the road.
One of the protesting police officers told newsmen on strict grounds of anonymity that what engineered their action was that they have been pushed out of their quarters by the management of the Federal Medical Centre.
"We have been forced out of our quarters by the management of the Federal Medical Centre, Owerri, FMCO. This is the cause of our protest", the policeman said.
The man was also irked that their superiors, "including our Commander and the Commissioner of Police, fully support the FMCO management, even as we do not have any alternative accommodation".
He recalled with grief that they parked into this place in 2015, when their official quarters at Nekede, Owerri West local government area was marked for renovation.
"We are operatives of Base 7 of CTU, Nigeria Police Force and we started operation in this state in 2011. We have done more then enough to ensure safety and security in this state and its citizens.This is not the best way to treat us, considering the kind of work we are doing in this state", the aggrieved policeman said.
He recalled with grief that as were demonstrating, members of their families remain stranded, while bulldozers were busy destroying the quarters.
"Our properties, documents, credentials and other personal effects are littered outside. We demand better treatment. We are human beings, working for the good of this country.We should be treated like human beings and not like animals", the man fumed.
When contacted on his mobile line, the Commissioner of Police, Mr. Dasuki Galadanchi, confirmed the incident but quickly added that the matter had been brought under control.
He confirmed that the quarters belongs to the Federal Medical Centre, Owerri, adding that the police cannot force them to part with their property.
"Our personnel have been asked to move into a new place. That is just what I can tell you now", the CP said.