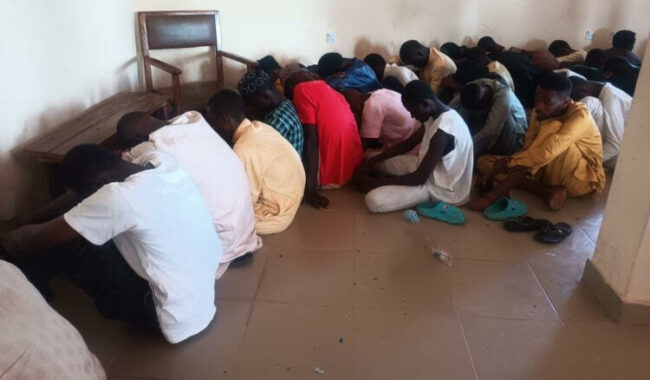 The suspects
Gombe State Command of the Nigeria Security and Civil Defence Corps (NSCDC) has arrested 76 youths suspected to be involved in same-sex relationships in the State.
The suspects were arrested by the NSCDC personnel at the point of alleged same-sex marriage somewhere in Gombe metropolis following a tip-off on the planned same-sex birthday party after which the marriage would have been consummated.
The disclosure was made by the Gombe State NSCDC Commandant, Muhammad Bello Mu'azu while briefing Journalists at the Command headquarters, in Gombe on Sunday.
Mohammed Mu'azu who was represented by the PRO, SC Buhari Sa'ad said that operatives of the Command successfully prevented the wedding from taking place because according to him, the NSCDC has zero tolerance for such social vices.
The Commandant further disclosed that following investigations, the Command discovered that out of the 76 suspects, 59 are males with 21 of them said to have confessed to being homosexuals, while 17 females who are believed to be involved in same-sex relationships were also arrested at the scene.
Muhammad Muazu said, "They were arrested at Duwa plaza along Bauchi-Gombe expressway, holding homosexual birthday party and had plans to hold same sex wedding before our men raided the scene."
He explained that "59 males were arrested, 21 willfully confessed to being homosexuals and 17 females, being present at the scene we also picked up amongst them."
The Commandant while lamenting the degeneration of morality among the Youths, said that he will send the culprits to school where they will not have adequate time for frivolities."
He noted that they would be charged to court upon completion of investigation, to answer for their crimes which is on social vice; a crime in Gombe.
https://tribuneonlineng.com/same-sex-marriage-nscdc-parades-76-suspects-in-gombe/