Senator Abba Aji intervenes in release of protested Bama IDPs in prison custody
Vanguard News / Tony / 2 hours ago
By Ndahi Marama, Maiduguri
Former Minority Whip in the 5th Senate and a former Presidential Adviser on National Assembly Matters to late President Umaru Yar'adua, Senator Mohammed Abba Aji has assigned his lawyer, Barrister Abdullahi Usman of Beneshiekh Chambers to take up the matter concerning some Internally Displaced Persons (IDPs) from Bama who peacefully protested their going back and vacated camps in Maiduguri due to poor feeding and health, but ended up arrested and remanded in Prison custody.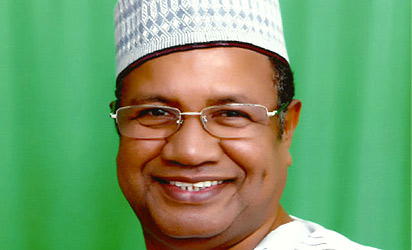 This is even as 500 IDPs from Abadam Local Government Area of Borno state taking refuge in Wanzam town of Diffa in Niger Republic who have spent over three years in asylum on Thursday also protested in Diffa province demanding from government and security operatives allow them go back to Abadam and pick up their pieces.
Recalled that 12 IDPs including their leaders out of thousands IDPs from Bama Local Government Area were arrested by the Borno Police Command for participating in the protest last Sunday demanding to be allowed to return to their communities.
They were however remanded in prison custody for one month pending the determination of their bail application, followed their appearance for prosecution at the Chief Magistrate Court No:4 presided over by Chief Magistrate, Hafsat Bappa at the Wulari Chief Magistrate Court, Maiduguri.
But reacting Friday on the plights of the IDPs, Senator Aji who also hail from Bama said, he and his Lawyer are following due process according to law to bail the 12 IDPs. "I have already assigned my Lawyer, Barrister Abdullahi Usman to take up the matter. We are going to bail those who were remanded in Custody. We are expecting their release from jail today or tomorrow as all the necessary bail conditions have been met.
"On behalf of thousands of IDPs in camps, i enjoined them to be law abiding and await government ditectives for their safe return back home, as i learnt Borno State Government has constituted a committee for IDPs return". Aji Said.
He said that the psychological trauma which the IDPs and those living within the host communities are undergoing as a result of pathetic conditions in their camps which has led to many unwanted teenage pregnancies, deaths by Cholera and starvation by lack of adequate food supply and joblessness has made it unbearable, hence their reasonable demands.
Presently, he said there is raising tension in the camps as the displaced persons are left with no option than to forcefully vacate the camps to go out in search of food.
His words; "I am seriously worried over the pathetic situation of our IDPs in Camps, there is no enough food for them to eat, Cholera is killing many of them, their children are not going to school in the last three years and their is no job for them.
" About 47 teenage girls from Bama in one of the camps have been forcefully impregnanted, one of the pregnant girls is 14 years old. They are living with their parents in the camps, and the parents watches the inhuman treatment with their children while in camps.
" When I received the distress calls that many of the IDPs wanted to trek back to Bama and pick up their pieces, I concur with them, but I advised them to exercise patience and follow the proper channel and be law abiding.
'" As we speak, they have all go back to their various camps pending appropriate arrangement by the security agencies and the government.
"Although, Government is doing its best to see that it rebuild Bama that was completely destroyed by the insurgents, it is unfortunate for me to learn that the reconstruction and rebuilding work in Bama have been unceremoniously stopped". Senator Aji said.
Meanwhile, over 500 IDPs taking refuge in Wanzam town of Diffa Province, Niger Republic took to the streets in a peaceful protest asking government and security operative allow them to return to their liberated communities of Malam Fatori, the Headquarters of Abadam Local Government Area.
The IDPs led by their leader Mallam Sani Tumbun Rago alleged lack of food and other economic hardship due to government neglect forced them to vacate their temporary resettlement camps and protest moving back to their communities.
His words: " We are here to express our gratitude to the Government and good people of Niger Republic for taking proper care of our IDPs. Since Boko Haram took over our communities and sacked us from our Communities in the last three years. Government of Nigeria or Governor Kashim Shettima has not visited us in camps not to talk of sending a representatives.
"Now it is over three years now and we felt is high time we return back to our liberated communities in Mallam Fatori. In the process of our peaceful protests, we have nominated ten of our members who are to represent us talk to the government and security forces ensure our safe return back home.
" We hope that government will give us a listening ears to allow us go back home, this is because we want to avoid what happened to our colleaque IDPs from Bama who protested last Sunday in Maiduguri Metropolis, but some of them, especially their leaders ended up in Prison Custody". Tumbun Rago stated.
The post Senator Abba Aji intervenes in release of protested Bama IDPs in prison custody appeared first on Vanguard News.