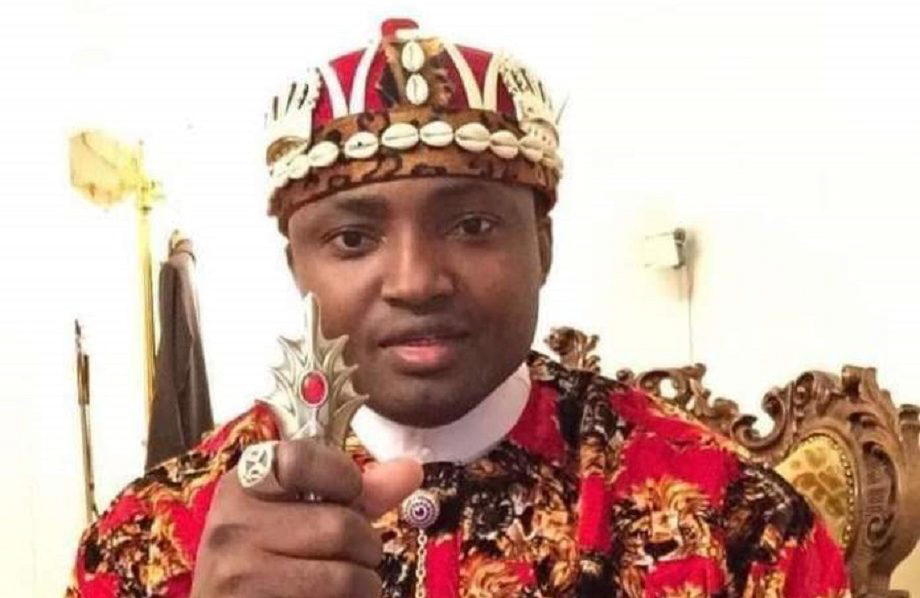 Simon Ekpa
'How Finland based Nigerian is sabotaging Nnamdi Kanu's release'
By Nnamdi Ojiego, Chimaobi Nwaiwu and Chinonso Alozie
Igbo leaders have called on the Federal Government to begin the extradition of Mr. Simon Ekpa, who is residing in Finland, for allegedly causing killings, and destruction of properties, markets and government facilities in the South-East while enforcing a sit-at-home order.
Interestingly, the Indigenous People of Biafra, IPoB, which Kanu leads, has cancelled the sit-at-home since August 2021 and severally disassociated itself from the weekly Monday exercise.
Nevertheless, people and government still associate IPoB with sit-at-home.
There is no denying the fact that there is a huge crack in the leadership of the secessionist group.
Recall that Kanu, the founder and leader of the IPoB, and his followers have openly declared a battle against Ekpa to wrest the group from him.
Also, there have been allegations that the violence being experienced in the South-East states is orchestrated by Ekpa and members of his group.
However, after the arrest of Kanu in Kenya about two years ago, Ekpa refused to take orders from the Directorate of State (DOS) of IPOB, which was running the group in the absence of the detained leader.
Ekpa claimed that IPOB was on autopilot, and not controlled by anyone, and, as such, he would not submit to DOS.
It was gathered that several attempts by Kanu, even from prison, to try to clip his wings have failed.
Those who spoke to Sunday Vanguard described Ekpa's incessant sit-at-home order as counter-productive to what Kanu stands for and an attempt to upstage the embattled IPOB leader.
The Igbo leaders believe the action of making people sit at home is working against the release of Kanu, and an attempt to upstage the detained IPOB leader.
They, however, condemned the continuous detention of Kanu in the Department of State Service (DSS) custody, describing it as executive rascality and called on President Bola Tinubu to unconditionally release the embattled IPOB leader as ordered by the courts.
This, they stressed, would put an end to the chaos and security breaches in the region allegedly instigated by Ekpa.
'Tinubu should act now'
Dr. Chukwuemeka Ezeife, the first civilian governor of Anambra State, said for peace to reign in South-East, the Federal Government should immediately release Kanu.
According to him, if the FG was not enjoying the killings and insecurity in the South-East, they could have done something to check Ekpa's alleged activities with his followers.
"If the government wants to stop the insecurity in South-East, they have every means to stop it.
Again, if Simon Ekpa is not an agent of the FG, they have all it takes to stop him", Ezeife said.
"The ultimate goal of solving the problem in the region is to listen to the voice of Igbo elders and stakeholders to release Kanu, and peace will reign.
"We cannot do much in the South-East without Nnamdi Kanu being released. If the government releases him, the whole tension in the region will disappear overnight.
"My advice now is that Tinubu should act immediately by releasing Nnamdi Kanu as ordered by the courts, then we can then know those engaging in criminal activities in the name of fighting for the release of his release".
Counter-productive
Also, the Igboezue International Association Nigeria and the Diaspora, IIAND, while reacting through its National President, Chief Pius Okoye, said that the incessant sit-at-home by Ekpa-led groups – the Auto Pilot and Biafra Government in Exile – apart from being counter-productive to the release of IPoB leader, it is also counter-productive and destructive to the South-East economy.
According to the group, every responsible and true son and daughter of Igbo land was in shock on why Tinubu was yet to release Kanu unconditionally from detention.
He said: "We expect that Mazi Ekpa, who claims to be a disciple of Kanu, to also do the same by ensuring that peace reigns in Igbo land while effort is made to release Kanu, but we are surprised that somebody, who claims to be working for Kanu's release, will be declaring sit-at-home for more than one day for the suffering Igbo people.
"IIAND is simply seeing that action of making people sit at home as working against the release of Mazi Kanu.
"In fact, it is actually an attempt to upstage him. We expect that Ekpa and his group should help ensure security in Igbo land in preparation for the peaceful atmosphere for the release of Kanu, not causing insecurity.
"As a group of elders in South-East Nigeria and the Diaspora, we want President Bola Tinubu to release Mazi Nnamdi Kanu for peace in South-East and Nigeria in general."
'Kanu's arch-enemy'
Reacting, the National President of Ohanaeze Youth Council, OYC, Comrade Igboayaka O. Igboayaka, maintained that anyone bringing death, insecurity, fear and businesses collapse in the South-East is an arch-enemy of Nnamdi Kanu and the Biafra restoration.
He said: "There was a viral video from one of Kanu's court appearances where he stated that he wants Biafra land to be calm and that he was in detention to save Biafrans not to see the people dying.
"Therefore, anyone that's doing anything that's bringing death, insecurity, fear and businesses collapse in the South-East is an arch-enemy of Nnamdi Kanu and the Biafra restoration. Mr. Ekpa's activities and utterances show him as a core enemy of Nnamdi Kanu and his quest for Biafra liberation.
Political solution
"Ohanaeze Youth Council (OYC) stands on the directives of Nnamdi Kanu who appealed for calmness in Biafra land. The FG should know that pro-Biafrans under Nnamdi Kanu are law-abiding and should be law-abiding too by obeying the court of competent jurisdiction that has set Kanu free.
"Holding Nnamdi Kanu in the DSS dungeon up till this moment is an act of executive rascality of former President Mohammed Buhari and Bola Ahmed Tinubu."
"We, therefore, call on the government to adopt political solution as recommended by Prof. George Obiozor, the late President General of Ohanaeze Ndigbo World Wide, to tackle the Nnamdi Kanu case."
Extradition
Similarly, the National President of Igbo National Council, INC, Chilos Godsent, said: "South-East governors should demand from the Finland government for the extradition of Simon Ekpa and failure to do that they will place an embargo on Finland and also lead a protest to the country's embassy."
Also, the Convener and Executive Director of PADDI Foundation, Mr. Eze Eluchie, asked Ndigbo to ignore Ekpa.
"In the meantime, I will advise that everybody neglects that rascal element. Even the IPOB, has denied him and says they are not part of the Ekpa sit-at-home order", Eluchie said.
"How possible is it that somebody, who is enjoying himself in faraway Finland, will continue to give orders that are implemented in the South-East?"
Contributing, the Coalition of South-East Youth Leaders, COESYL, Goodluck Ibem, stated that Ekpa was not fighting for the release of Kanu. "Simon Ekpa is not fighting for the release of Nnamdi Kanu, he is fighting for him to remain in detention", Ibem said.
"The truth is that somebody who claims to be agitating for his people cannot unleash mayhem on them and kill the same people he claims to be defending."
Different ideologies
A popular Twitter influencer, known as @General_Oluchi, explained that Nnamdi Kanu and Simon Ekpa have different ideologies under IPOB.
"Nnamdi Kanu wants a referendum and was after marauding armed Fulani herdsmen which led to the creation of the Eastern Security Network (ESN), while Simon Ekpa sponsored attacks against Igbos in the South-East who refused to obey his sit-at-home order", she wrote.
"Ekpa is not interested in the referendum agenda or calling for MNK release like IPOB expected. Simon has gone rogue."
She stated that Kanu had told Ekpa and co to stop the sit-at-home order about two years ago, but he refused.
"That message was passed through Nnamdi's wife who recently visited him in DSS custody months ago, and through his lawyers", she further wrote.
"Buhari's government hunted Nnamdi Kanu down twice. At first, he was arrested and imprisoned, then granted bail.
"The second time, they caught him in Kenya and brought him back to Nigeria, but the same government could care less about Simon Ekpa. Why is the FG not looking for Simon Ekpa? What does that tell you?"
Govt agent
Another Igbo leader, who preferred anonymity, accused Ekpa of working with the ruling party to prevent the release of Kanu.
"It's that simple and time will tell. Simon Ekpa is a government agent working so hard to destabilize the East so that Mazi Nnamdi Kanu will not be released", he said.
"Kanu was hiding while Ekpa was free and his location is known. Why has this government not contacted the Finnish govt to repatriate or call him to order? Why have they not gone to Finland to arrest him? You have your answer."