Eric Dumo, Afeez Hanafi and Timileyin Akinkahunsi
David Eluma has no plans of slowing down. Two months ago, he opened another branch of his thriving footwear production outfit in the Ojota area of Lagos. It was his second – after the one he had previously established in the Egbeda area of the city. A graduate of Banking and Finance, he embraced his new venture in September 2018 after over one year of fruitless search for a job. That month, while on a visit to a cousin in Abuja, Nigeria's capital city, 31-year-old Eluma attended a skills acquisition programme organised by a branch of the Redeemed Christian Church of God. It was a short training but the benefits from the skills learnt have continued to be of benefit to his life.
"I have always wanted to learn a craft but hadn't made up my mind on which one it was going to be until I visited my cousin in Abuja last year," the young entrepreneur told Saturday PUNCH during a recent encounter. "While attending a service in the branch of the Redeemed Christian Church of God he attends in the Kubwa area of the city, I heard about the skills acquisition training and decided to attend and learn how to make footwear.
"After successfully completing the training, I made sure I kept practising and going on the Internet to learn more techniques. In less than two months from that period when I moved back to Lagos, people had started patronising me and placing orders for the type of footwear I make.
"I soon opened a shop in Egbeda area and had two people working for me. A few weeks ago, I opened another shop in a very busy part of Ojota. Business is looking very good at the moment. The free training I got at the RCCG branch in Abuja has not only changed my life and story, it has also helped me to give other job seekers hope as well.
"With the level of patronage we are enjoying now, I have no doubt that we'll be expanding again soon because already I have four people working for me," he added.
RCCG
Interestingly, Eluma is not the only one who benefitted from the RCCG's empowerment programme in Abuja last September – there were at least 1,050 others that also tasted from this 'dish'. Lilian Ibe, a 28-year-old polytechnic graduate, was one of them. Failing to find a stable job since finishing from school in 2016, the young lady signed up to learn tailoring during the training. Eight months after, things have taken a completely different turn for her.
"I never knew God wanted to use the RCCG to bless and change my life for good on the day I first worshipped at one of the branches I attended in Abuja. During one of the services, the empowerment programme was announced and I quickly signed up to it.
"Today, that training is what has been putting food on my table; even though, I have yet to be an expert. The people who like my work have been directing other customers to me after seeing what I did for them. To be honest, if I hadn't attended that training by the RCCG branch in Abuja last year, maybe I'd still be looking for a job till now.
"But I thank God for using that church to change my story and make me have strong hope for the future," Ibe, who spoke with one of our correspondents over the telephone, said.
Pastor-in-Charge of New Life Province of the RCCG in the Federal Capital Territory that organised the empowerment programme, David Adewuyi, revealed that the initiative was part of the church's social responsibility drive to banish unemployment and social vices from the land.
"The Lord laid it in the heart of our General Overseer, Pastor Enoch Adeboye, to have a section that will be referred to as Church Social Responsibility.
"Our wealth creation and skills acquisition programmes always draw participants from other churches and across cultural and religious groups. This is very good for the overall development of our society and would foster unity among Nigerians," he said.
One of the biggest religious movements in Africa and indeed the world, the RCCG has over the years established different platforms through which it touches the lives of people in different parts of Nigeria and beyond. For example, through RISE – an acronym for Redeemed Initiative for Skills and Empowerment – the church has trained over 5,000 students in various skills since 2011 when the scheme started. This is aside its support for widows, orphans and underprivileged persons across the country in various ways. The religious organisation has also supported dozens of schools, hospitals and even police formations with equipment to aid performance over the years, too.
For instance, recently, Lagos Province 44 of the RCCG donated a fully equipped computer laboratory to Aguda Junior Grammar School, Lagos; renovated and donated security equipment to four police stations in Surulere; and renovated the dining hall, kitchen and boys hostel of Modupe Cole Memorial Child Care and Treatment Home. These were apart from the empowerment of over 350 unemployed persons, donation of neo-natal equipment to Massey Street Children Hospital, Lagos, and award of bursaries to indigent students.
According to Pastor-in-Charge, Amos Emovon, the interventions were in accordance with the vision and mission of the RCCG to positively impact lives within  the communities where its parishes are located.
While corroborating Emovon's position, Special Adviser to RCCG'S General Overseer on Administration and Personnel, Pastor Johnson Odesola, said the initiatives were in line with Adeboye's vision of contributing to societal development in every way possible.
"Corporate Social Responsibility entails giving back to the society by adding value to people's lives. Not only blessing these people spiritually but also ensuring that their physical lives also have a meaning," he said.
In May 2019, His Love Foundation, the vibrant charity arm of the RCCG, inaugurated a modern facility for the Canine Division of the Nigeria Police Force in Area F, Ikeja, Lagos. This was in addition to donating a borehole, a generator set and other relevant items.
"We have done all these for NPF as our contribution and appreciation to the Nigerian Police Force for their good works to the community and state where we reside," Special Assistant to the General Overseer on CSR, Pastor Idowu Iluyomade, said.
During separate visits to some of the benefitting police divisions, officers, who spoke on condition of anonymity because they were not permitted to speak with journalists, told Saturday PUNCH that indeed the support from RCCG in different forms had helped to improve their work of providing security for the people.
"The church has been supporting our work a lot, I must be honest," one policeman at Area F said. "Beyond supporting us with prayers, they also assist us with useful equipment that makes our work easier. We really appreciate their efforts," he added.
Impacting lives both spiritually and physically in the communities where they operate is not the exclusive preserve of RCCG, Saturday PUNCH discovered – other big churches in Nigeria have also raced to the frontline of societal development in recent times as well. The Mountain of Fire and Miracles Ministries falls in this category. Led by Pastor Daniel Olukoya, the church has gone beyond organising deliverance services for Nigerians to touching their lives in ways that make daily living easier and interesting.
For example, in March 2019, the Productivity Enhancement Forum, a cell in the church, trained over 300 persons in different skills, while also empowering several others with tools and items that could help them establish thriving businesses. Coordinator of the scheme, Pastor Olakunle Shiwoniku, said the initiative, which started in 2002, is aimed at lifting people out of poverty.
"We have graduated over 300 people so far. All what the church is trying to do is to make sure people are comfortable.
"We have spent close to N5m since we started this academy in 2018. We will continue to do what we are doing. As much as God gives us the power, we will continue to empower the people. There is so much poverty in the land and we want to make our people wealthy. Everybody must increase," he said.
Those living around MFM's camp ground along the Lagos/Ibadan Expressway have also testified to the impact the church has had on them and their environment. A community leader in the camp's neighbourhood in Magboro, Segun Alade, said living next to MFM has been a huge blessing.
"I cannot count all the benefits we enjoy from having MFM in this community," he began. "Their interventions in community development have helped this town to open up fast and continue to witness all kinds of good things in terms of road networks.
"Even though I am not a member of the church, I cannot deny their effort in making this community peaceful and safe for us residents. Only God can reward them for all their kind gestures towards us," Alade added.
Deeper Christian Life Ministry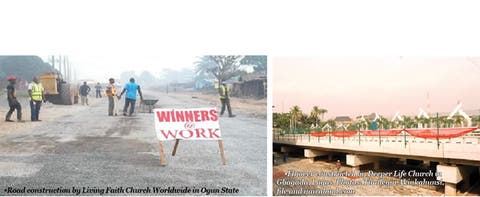 Located in the heart of Gbagada, a quiet neighbourhood in Lagos, Deeper Christian Life Ministry headquarters sits imposingly on Ayodele Oke-Owo Road – some metres away from the Gbagada General Hospital. What is now a melting pot for thousands of worshippers from across the country wore a magnificent look last year after it was rebuilt. Estimated to have cost about N5bn, the edifice, which is described as the fourth largest in the country, boasts of 45,000-capacity hall and a multi-layered car park.
Interestingly, the significant transformation of the church has also impacted positively on the road network of its host community on one hand and commercial activities in the area, on the other. For instance, the overhead bridge constructed by the church on Oduwaiye Street has put an end to the perennial traffic the route was notorious for in the past, a resident, Wole Adeniyi, told one of our correspondents.
"The link bridge built by the church has greatly eased vehicular traffic in this community. Except on occasions when the church is holding a programme that attracts members from far and near, traffic has become a thing of the past in this community," Adeniyi stated.
Aside from the bridge project, Saturday PUNCH learnt that the church has equally embarked on the construction of Twins Obasa Road in the community to provide an alternative route for linking the Gbagada-Oshodi Expressway.
"The church is also doing another road to decongest the traffic that arises when a multitude of its members are leaving the church after a programme," a pastor and Chairman of Irepodun Landlords Association, Archbishop Matthew Akerele, told Saturday PUNCH earlier in the week.
"The church also promised to construct another road from Fred Omojole Street for motorists to connect the expressway without passing through Gbagada General Hospital route. We urge them to commence work on it soon," he added.
According to a commercial driver, Kareem Oyedele, the traffic lights installed by the church at strategic points within the community have phased out problem of collision and intense struggle for passage among motorists.
"This junction (the one in front of the church) connects four routes. Before now, drivers were impatient to wait for one another to pass, especially if there was heavy traffic. There was a day two cars had a collision and there was an issue over who was right or wrong.
"But since the traffic light was installed by the church at this junction, we have been witnessing orderliness on the road," he said.
While opening the new-look edifice of the church in February 2018, the immediate-past governor of Lagos State, Mr Akinwunmi Ambode, lauded the leadership and members of Deeper Life for their contributions towards community development. Ambode, who was represented at the event by the then Commissioner for Energy and Mineral Resources, Mr Olawale Olowu, said that the multiple projects executed by the church, which included a link bridge, traffic lights and 600-capacity multi-level car park, would improve the quality of life of the people.
"What Deeper Life Church has done is epochal and it keys into the overall drive of the state government towards the renewal of infrastructure projects all over Lagos in line with the mega city ambition of the state.
"It is my view that if all other religious groups and private sector organisations in the state give similar support to the government, a lot will be achieved and in a very short time, it will help in improving the quality of infrastructure in our Lagos," Ambode had stated.
On the commercial gains the church has brought to the area, a trader on Akerele Street, Mrs Victoria Akomolafe, described her business as a beneficiary. The woman, who sells household items and soft drinks, stated that she records considerable sales whenever the church is holding a programme.
"Their programmes are a boost for my business. If it is a general programme, the crowd will be much and a lot of people buy thi
"The church just ended a week-long programme on Tuesday and to the glory of God, I had some good sales," Akomolafe said, flashing a warm smile.
Winners Chapel
It is the same testimony in Ota, Ogun State, where the presence of Living Faith Church Worldwide has not only splashed renewed hope all across the town and beyond but also lifted a growing number of individuals and households out of poverty. During a visit to the community earlier in the week, residents of Ota and neighbouring towns told Saturday PUNCH how the church's intervention in road development and electricity distribution has changed their lives for good.
Stephen Akinribola, a commercial transport operator, said his business was almost hitting the rocks in 2006 and that he almost switched to another vocation when the Living Faith Church fixed the deplorable Ota/Oju-Ore Road where he plies daily. He told Saturday PUNCH that the development brought new life into his business.
"We can't stop thanking God for the life of Bishop David Oyedepo and the entire Winner's family. Everyone in this community knows that they regularly fix the roads from Oju-Ore to Atan, making vehicular movement easy in the process.
"We thank God that they always come to our rescue. I am a resident of Iyana-Iyesi and the impact of the church on my environment is immeasurable. They always make movement in Iyana-Iyesi smooth every year. Many people around this axis are gainfully employed because of the church.
"The interesting part about the church is that they don't discriminate at all; you don't even have to be a church member to get a job there. I know many Muslims who work inside Canaanland. They have changed people's lives.
"If not for them, we all would have relocated; the road would have become a death trap. In all areas, we have benefited from them," he said.
For John Kolawole, a driver with a major transportation service, a lot of the development strides that Ota has witnessed so far can be credited to the efforts of the Living Faith Church, popularly known as Winners Chapel.
"There was a time the entire Ota was in total darkness; it was the church that brought electricity to this community. The development Ota is enjoying today can be attributed to the church. They brought the community into the limelight," he said.
Alhaji Waheed Ekerin, another resident of Ota, couldn't contain his joy when speaking about the impact of the Living Faith Church on their community. According to him, the church has brought many interesting developments to the town.
"We thank God for Bishop David Oyedepo's life; I pray that God would preserve his family and church members. He has done many things for us in this town. When our transformer packed up, it was Oyedepo that gave us a transformer; he brought us from physical darkness to light.
"After we were given the transformer years back, most of the people in the community couldn't contain their joy as we all went to the church premises to thank the man of God.
"I can never forget how the church revamped the state of the roads few years back from Atan- Agbara.
"Everyone in this community is aware of how the church has taken it as its responsibility to repair the roads from Oju-Ore to Atan regularly; thanks to them, they are the reasons why cars can still take that route.
"When the community was split into many CDA's about two years ago, the church donated about two transformers to the new communities. They continue to put smiles on our faces," he said.
A trader at the Oju-Ore area of Ota, Kemi Alamu, told Saturday PUNCH that her food business was still thriving because of the impact of Winners Chapel on the development of the major road leading to her store.
"This road used to be an eyesore before, it even affected my business, and I was losing customers because the path that led to my food stand was in a mess.
"However, things changed when the Winners Chapel repaired this major roundabout and they have continued to maintain it from time to time. I always look forward to their annual programme because it is always a good period for me. The amount of money I make in a week when they have their annual programme is enough to sustain me throughout the festive period.
"Many of my colleagues in this business can also testify to this fact. I am happy that a church like this was brought to our town because beyond the spiritual blessings, the physical benefits are evident as well," she stated.
CAC
While speaking with Saturday PUNCH on the issue, Retired General Evangelist of the Christ Apostolic Church, Prophet Samuel Abiara, observed that empowerment should be one of the core responsibilities of churches, noting that CAC has keyed into it. He said the church had also intervened in some areas by providing help for those affected by natural disasters.
"We empower people by giving them money – between N100,000 and N500,000 – to start their business. The church also assists in fixing houses affected by natural disasters such as rainstorm. We have helped many people to put roof on their houses when they are blown away by wind.
"The church has bought sewing machines, grinding machines, tricycles and cars for some members of the public for them to have stable sources of income. These are things churches are expected to do to benefit people. I usually tell people that they must not spend their money alone," he said.
The Director, Spaces for Change, a non-governmental organisation with interest in social and economic governance in Nigeria, Mrs Victoria Obezim-Ohaeri, noted that the church interventions in socio-economic development are commendable, especially on the backdrop of government's failure in delivering basic amenities and infrastructures in many parts of the country.
"There is nothing wrong in churches taking up some of these social responsibilities. They are doing a good job and they should be commended. They should continue to do that. They should see it as part of their charities and obligations to the public.
"I know Catholic church is also doing a lot in education and providing help for different groups but the government needs to acknowledge their efforts.
"You can't excuse the government from these responsibilities. It becomes problematic where government deliberately fails in its responsibility to provide social services and infrastructure to the citizens. And that has been a trend in Nigeria where government fails to perform its obligations.
"People are now looking up to the institutions in their communities to come to their aid.
"It is a failure of the government and it is something that should be regretted. Now that we have new government, we hope that the new set of leaders will act differently from their predecessors," she said.
Copyright PUNCH.