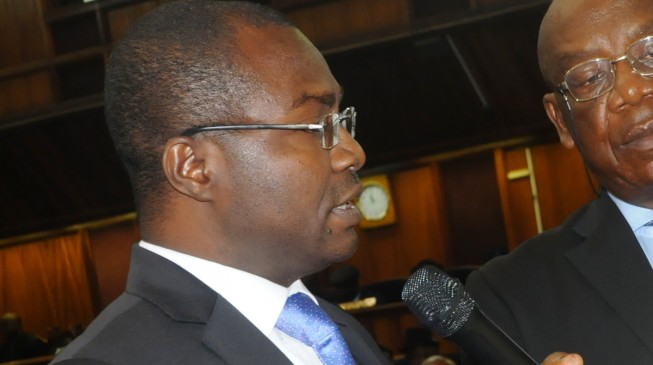 The home of Nnamdi Dimgba, a judge of the federal high court Abuja, was raided a day after he had berated the Department of State Services (DSS) in court.
The homes of some judges across the country were raided by the DSS on allegations of corruption.
On Friday, Dimgba had chided the DSS in court for flouting an order to remand a defendant to prison.
Umar Mohammed, a retired air commodore, was ordered to be remanded to Kuje prison on Thursday and on Friday, the DSS failed to produce him at a hearing for his bail application.
"I take a strong exception to this type of behaviour; when the court orders that someone be kept in prison custody, the person ought to be kept in prison and not in the office," Dimgba said.
"If the people at the DSS want to become judge and do their job as well, I am ready to vacate my office for them, but as long as I am still here, I take an exception to them flouting the orders of the court. Once processes have been filed in court, it is no longer in their hands and the order of the court must be obeyed."
Although he was not arrested, the operatives went to his house, but neither of the two warrants had his name.
His brother who was in the house was reportedly assaulted.
DAY OF THE INVASION
According to Punch, the DSS operatives arrived at Dimgba's residence at 8:00pm on Friday.
"The judge got to know of the presence of the DSS operatives at about 8pm on Friday after he was alerted by his security guards. About 20 of them surrounded this house and that of Justice Ademola," the newspaper reported.
"About an hour later, they sought to enter the house and they were let in. On getting in, the judge asked for their search warrant and they promptly produced one which bore Justice John Nyang's name. The judge made them to realise that he wasn't Justice Nyang and they produced another one bearing Justice Ademola's name.
"Justice Dimgba again said he was not Justice Ademola. They promptly apologised that there was a mix-up but that they had instruction to search his place.
"They went ahead to search the house for about 30 minutes. At the end, they went away with the bag which the judge later complained to be containing his draft judgments."
PUNCH reported that the DSS operatives, after breaking a door that leads to his living room, searched the property and made away with a bag containing the drafts of judgments which he was meant to deliver on Tuesday.
Adeniyi Ademola, the judge trying inSambo Dasuki and Dimgba's are neighbours and their houses are located at S.O Ogbemudia Crescent, Zone E, Apo Legislative Quarters. Meanwhile, Dimgba occupies 30A, Ademola lives at 30B.