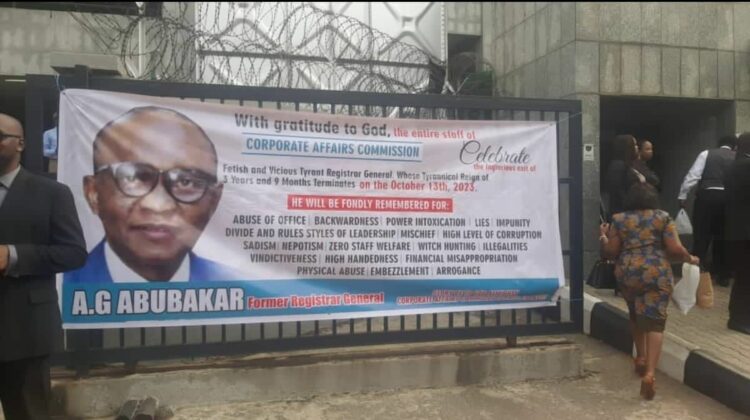 Staff of Corporate Affairs Commission (CAC) have gathered at the organisation's Abuja headquarters to celebrate the sack of its Chief Executive and Registrar-General, Garba Abubakar, whom they referred to as a "vicious tyrant."
The workers, who were seen dancing in a viral video, expressed their gratitude to President Bola Tinubu for appointing a new Registrar-general, Hussaini Sani, for the Commission.
Also, a banner was placed at the entrance of the CAC headquarters on Monday detailing the alleged offences of the sacked Registrar-General.
They emphasised the need for the new chief executive officer (CEO) to avoid continuing the anti-labour policies of the previous helmsman.
Recall that in 2017, CAC staff under the auspices of the Amalgamated Union of Public Corporations, Civil Service, Technical and Recreational Services Employees (AUPTRE) protested over poor welfare.
The CAC workers, who are members of AUPTRE, an affiliate of the Nigeria Labour Congress (NLC), also offered prayers for the newly appointed Chief Executive and Senior Advocate of Nigeria (SAN), Hussaini Sani.